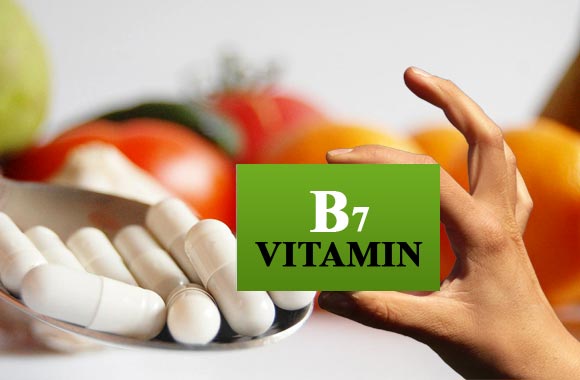 Biotin, also known as Vitamin B7 has long colorless needle-like crystals. It is only slightly soluble in water and is heat stable. It is the monocarboxylic acid. Its old name was Vitamin H but after more researches, it was reclassified as being part of the vitamin B family.
Sources
It is widely distributed in nature and is found especially in liver, kidney, milk, tomatoes, yeast, and molasses. Biotin occurs in large amounts in royal jelly produced by bees. It is also synthesized by the intestinal flora and this seems an important source of biotin than the diet. It is largely ingested in a form linked to protein from which it is released by the pancreatic juice enzyme biotinidase.
Functions
Biotin acts as a coenzyme for the enzymes carboxylases that catalyze reactions which are involved in the fixation of carbon dioxide which is first taken up by this vitamin. The following reactions need biotin as a coenzyme;
In the conversion of acetyl-CoA to malonyl-CoA. This is the first step in the cytoplasmic biosynthesis of fatty acids.
It is important for the conversion of pyruvic acid to oxaloacetic acid.
It is used in the carboxylation of propionyl-CoA to D-methylmalonic CoA.
Conversion of Beta methylcrotonly-CoA to Beta-methylglutaconly-CoA which is then changed to HMG-CoA.
Biotin is also seen to play role in the process of gluconeogenesis. This is important for the supply of glucose to the body.
Deficiency
Deficiency of biotin in rarely seen clinically but can be produced experimentally by feeding to volunteers a large quantity of raw egg white. A glycoprotein namely avidin which is strongly basic is present in raw egg white and takes up all biotin and forms a biotin-avidin complex. This cannot be hydrolyzed by proteases or even by acids and therefore the ingested biotin is not absorbed. One molecule of avidin combines with two molecules of biotin. Biotin deficiency may also result from biotinidase deficiency in the pancreatic juice and in malabsorption syndromes. Symptoms of biotin deficiency resemble those arising from essential fatty acids deficiency and include
Perioral dermatitis
Alopecia
Conjunctivitis
Ataxia
Conjunctivitis
In children, its deficiency may result in
Delay in development
Neurological defects
Organic aciduria.
Biotin is given therapeutically to babies with infantile diarrhea, to patients on long-term parenteral nutrition and to individuals with the genetic alterations of biotin-dependent enzymes. Gastrectomy, achlorhydria, elder people, epileptic people, burnt people, and athletes require large a amount of this vitamin. Its requirement is also increased in case of pregnancy and lactation.
Recommended Allowances
Infants 10-15 µg
Children and adolescents 20-30 µg
Adults 30-100 µg
Surplus
There is no known toxicity reported if this vitamin is taken in excess. It is relatively safe.
Related posts: