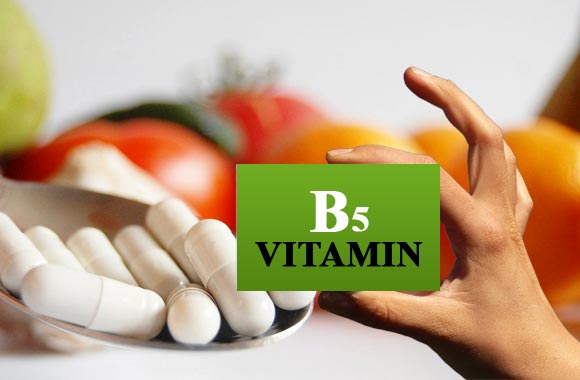 Vitamin B5 is a viscous yellow and is stable in the moist heat but is destroyed by moist heat. Pantothenic acid is available commercially as sodium and calcium salts. Its other chemical names are Panthenol and Pantethine along with Pantothenic Acid
Sources
This vitamin is ubiquitous that is it is very widely distributed and its animal and plant sources include
Animal Sources: Liver, egg, kidney, meat, and milk.
Plant Sources: These include peas, cauliflower, avocados, rice cabbage, potatoes, and tomatoes.
The E.Coli present in the intestine also manufactures it which may be absorbed then. It is because of its widespread occurrence that it was named pantothenic acid. This vitamin B5 is quite an unstable vitamin.
Functions
There is a long-standing link between pantothenic acid and adrenal cortical function. It plays role in the biosynthesis of corticosteroids. Human blood usually contains 17-35 mg of pantothenic acid per 100ml and it is mostly present in the coenzymes.
It is first changed into the body to 4-phosphopantetheine by the process of phosphorylation and linkage to thioethanolamine which forms a part of the molecule of coenzyme A (CoA-SH). Coenzyme A plays role in the metabolism of proteins, fats, and carbohydrates and also takes part in many physiological reactions such as the formation of acetyl CoA and succinyl-CoA in the oxidation of fatty acids and in the utilization of acetoacetic acid, synthesis of cholesterol and in many other biochemical reactions.
In addition to forming a part of the molecule of coenzyme A, pantothenic acid also occurs in the molecule of acyl carrier protein which plays role in the biosynthesis of fatty acids. Folic acid and biotin seem to be needed for the utilization of this vitamin. Recently research has shown that it also takes parts in the post-translational modification of proteins e.g. N-terminal acetylation, acetylation of internal amino acids and fatty acid acylation.
Adequate Daily Requirement
The daily requirement of vitamin B5 is set at 10 mg and all food contribute to dietary intake. About 3mg of this vitamin is excreted in the urine.
Deficiency
It is manifested by neuromuscular degeneration and deficient functioning of the adrenal cortex. The clinical picture of deficiency state is as follow;
There are irritability, restlessness, disturbed sleep rhythm and excessive fatigue on mild exercise.
There occur various gastrointestinal disturbance including pain, nausea, vomiting and stool problem.
The response of adrenal cortex to ACTH is diminished. For example, the eosinopenia seen in normal person after ACTH administration does not take place.
There occurs a syndrome names burning feet syndrome due to vitamin B5 deficiency. This syndrome is due to decreased acetylation reactions.
Lack of this vitamin leads to the depressed metabolism of both the carbohydrates as well as the fats.
It may also cause in the lower animals retard growth, failure of reproduction, graying of the hair, dermatitis, fatty liver and hemorrhagic adrenocortical necrosis.
Surplus
There has been no known toxic effect seen so far by this vitamin B5. If someone ingests increase amount of this vitamin, it does not lead to any harmful effects on him. It has been proved by administration of large doses of pantothenic acid without any significant effects.
Related posts: