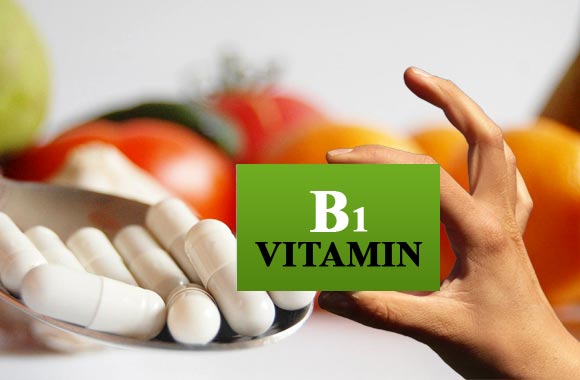 Vitamin B1 also called thiamine is a water-soluble vitamin and is important for using the carbohydrates.
Properties: It is white and crystalline compound. It is slowly destroyed by moist heat. It has an odor like that of yeast.
Sources
Thiamine occurs in all natural foods and it sources include
Plant sources: Whole grain cereals, wheat, yeast, gram, vegetables, legumes, nuts, and fruits. It also occurs in the outer layer of gains like bran and rice polishing.
Animal sources: Eggs, meat, fish, and milk are its animal sources.
Recommended Allowances
The daily requirement of thiamine is 0.5mg per 1000Kcals. The body content of thiamine is placed at 30 mg and if more than this is given it is merely lost in the urine. Patients on regular hemodialysis should routinely be given supplements of thiamine.
Biochemical Function
Thiamine forms the important enzyme the thiamine pyrophosphate by reacting with ATP. Thiamine pyrophosphate is the coenzyme of carboxylase and plays a part in activating transketolase, an enzyme which is involved in the direct oxidative pathway for glucose. In case of its deficiency, there is an accumulation of the substrates which are pyruvic acid, lactic acid, pentose sugars and alpha ketocarboxylic derivatives.
Deficiency
The two principle deficiency of thiamine deficiency is beriberi and Wernick's encephalopathy.
Beriberi
Beriberi means 'I cannot' which points out the fact that the patient suffers from severe weakness and even paralysis. This disease was found to be linked with eating polished rice and was very common in the Far East once where rice is the staple diet. It is now uncommon even in the Far East and is usually found in infants and pregnant and lactating women.
Beriberi occurs in three main forms:
Dry beriberi: It is characterized by nerve involvement in which polyneuropathy is the common feature.
Wet beriberi: This form is characterized by heart involvement also called cardiac beriberi.
Infantile beriberi: This is seen in infants between two and four months of age. The affected baby is usually breastfed by a thiamine-deficient mother who also shows signs of peripheral neuropathy.
Wernick's Encephalopathy
This is characterized by ophthalmoplegia, polyneuritis, ataxia and mental deterioration; it is mostly seen in those people who fast.
Korsakoff's syndrome: This syndrome is seen in chronic alcoholics with this thiamine deficiency. There are bilateral hemorrhages in the hypothalamus.
Requirement
The requirements of thiamine are increased in the following situations:
When there is increase metabolic activities e.g. in case of fever, in doing exercises and in case of hyperthyroidism.
When carbohydrates form a much greater fraction of caloric intake e.g. when patients are maintained by parental alimentation consisting of glucose.
Patient on peritoneal dialysis because of thiamine loss into the dialyzing fluid.
Storage
It is stored as thiamine pyrophosphate and also it is stored in mono and triphosphate derivatives.
Surplus
It has no such adverse effects since an excess of thiamine will be excreted in the urine. It only causes some pimples which are not dangerous. Other toxic effects include nervousness and sweating.
Related posts: