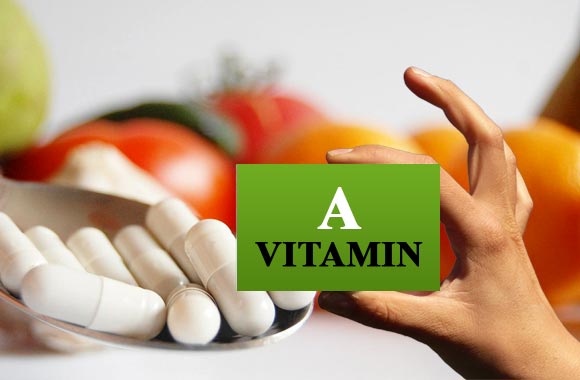 Vitamin A also called retinol or beta-carotene is a complex alcohol. Its aldehyde derivative is known as retinal as well as retinene and retinaldehyde. There are several isomers of vitamin A; the most important of them are 13-cis retinol which is found in many fish liver oils and 11-cis retinol which is found to occur in the retina. It is quite heated stable but it can be destroyed at high temperature in the presence of oxygen or air.
Sources
Vitamin A is found abundantly in the animal kingdom as compared to a plant. Its sources are
Animal Sources: Liver oils of certain fishes such as halibut, shark, and cod; livers of other animals, egg yolk, butter, cheese, and milk. The colostrum is very rich in vitamin A.
Plant Sources: Its plants'sources are Carrots, yellow corn, sweet potato, peaches, and spinach. In fruits, it is present in mango and pumpkin.
Fortified Foods: Vanaspati, milk, and margarine are foods which are fortified with vitamin A.
The liver has an enormous capacity to store vitamin A which is stored in the form of retinyl palmitate. Under normal condition, a well-fed person has enough vitamin A storage to meet his needs for 6-9 months. Free retinol is highly active but toxic and is therefore transported within the bloodstream in association with retinol binding protein which is produced by the liver. In case of severe deficiency, decreased production of retinol binding protein prevents the mobilization of liver retinol reserves.
Functions
Effects on Epithelium: Vitamin A is needed for the maintenance of healthy epithelium throughout the body. It is essential for the formation of glycolipids. It plays role in the synthesis of glycoprotein including those present in the goblet cells which secrete mucus.
Effects on Bones: It is found helpful in the development of bones.
Role in Metabolism: Vitamin A is necessary for fetal development and for cell development throughout the life. Vitamin A is involved in the biosynthesis of glucocorticoids. An optimum level of vitamin A is required for the normal activity of the mitochondria.
Role in Vision: This is the best-defined function of this vitamin. The isomer 11-cis vitamin A in the aldehyde form occurs only in the retina. It results in the formation of rhodopsin which is present in rods and is essential for rod vision in dim light.
Role in Immune system: Vitamin A along with certain carotenoids, enhance the activity of the immune system and helps in controlling infectious and even malignancies.
Role in Gene expression: This is carried out by binding of vitamin A to a transcription regulatory protein that is helpful in controlling genes.
Deficiency
There occur ocular and extra-ocular diseases due to this vitamin deficiency.
Ocular Manifestations: These include
Night blindness: It is the inability to see in the dime light
Conjunctival Xerosis:  Here conjunctiva becomes dry and non-wet-able.
Bitot's spot: These are spots on the bulbar conjunctive and are pearly-white.
Corneal Xerosis:  Here the cornea is seemed dull and eventually appears opaque.
Keratomalacia:  It is the liquefaction of the cornea and it's the grave medical emergency.
Extra-ocular Manifestations: These include
Anorexia
Growth retardation
Hyperkeratosis
Surplus
The excessive intake leads to hypervitaminosis A. This results in a headache, nausea, vomiting, and drowsiness; peeling of skin also takes place. Excessive intake of vitamin A should be avoided during pregnancy as it increases the incidence of congenital malformation.
Recommended Dose
Adults 600mcg
Infants 250 mcg
Children 600 mcg
Pregnancy 600 mcg
Lactation 950 mcg
Related posts: