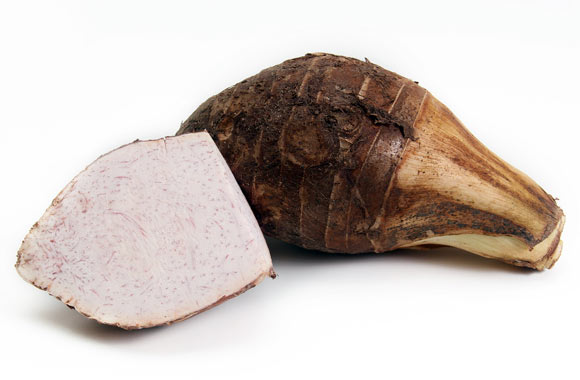 Taro is the common name for corms and tubers in several plants in the Araceae family and is native to Southeast Asia. It is a perennial tropical plant grown as a root vegetable for its edible starchy corms and as a leaf vegetable. It is considered to be a staple food in these cultures: African, Oceanic, and Asian. Taro is considered to be one of the earliest cultivated plants in the world. Taro is known by many names and often referred to as elephant ears when grown as an ornamental plant.
Taro has leaves that are one to two meters long with a long erect petiole, and arrow-shaped blade. Plants like this are sometimes called elephant ears because of the way they look. This plant never grows flowers or set seeds. The absence of flowering is one piece of evidence that formerly was used to show the ancient origin of Taro because plants that have lost their ability to reproduce in the wild are usually judged to have been cultivated for a long, long time.
Taro corms are roasted, baked, or boiled to be made into cakes. Heating is necessary to take away an acrid, irritating property of the raw corms. The substance that is blamed for this irritation is the needle-like crystals of calcium oxalate which occur throughout the plant and become lodged in the mucous membrane of the mouth and throat.
Taro is a high source of dietary fiber which reduces your risk of heart disease, helps you to manage your weight at a decent range, and improve the bowel movements. A one-cup serving of cooked Taro gives a person six point seven percent of the daily required amount of fiber which is twenty-five percent of the daily needs of fiber.
Taro that has been cooked is also an excellent source of Vitamin E with a 3.87 mg in one cup servings. Vitamin E is a fat-soluble vitamin best known for its antioxidant activity and protecting cells from oxidation by free radicals. Foods that are rich in antioxidant such as Vitamin E may offer protection against heart disease and certain types of cancer. Adults need 15 mg of Vitamin E a day and one cup serving of Taro meets twenty-five percent of a person need for Vitamin E.
A one cup serving of Taro gives a person 629 mg of potassium and when Taro is consumed on a daily basis, it helps to lower the blood pressure. A healthy diet should include 4700 mg of potassium a day according to the American Heart Association and one cup serving of cooked Taro gives a person thirteen percent of your potassium needs. Before increasing your intake of potassium please talk to your doctor and get his advice on the subject. As a person gets older, the kidneys cannot get rid of the potassium in your bloodstream as efficiently as when the person was younger in age. High levels of potassium can be dangerous.
Related posts: