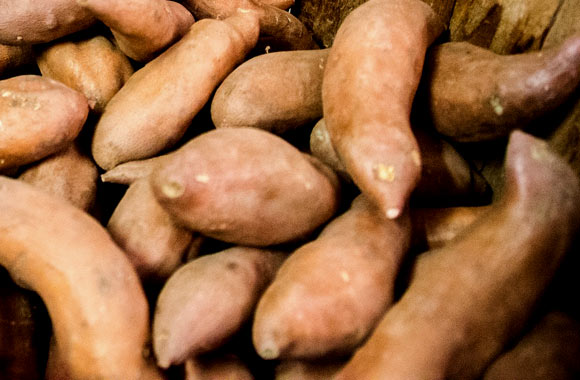 When people think of sweet potatoes, they think of that special holiday called "Thanksgiving". Sweet potatoes' large, sweet-tasting, tuberous roots make them an important root potato vegetable. The young leaves and shoots are sometimes eaten as greens and sometimes, the softer, orange variety is called a yam which is native to Africa and Asia.
Sweet potatoes which are native to Central America and has been cultivated for over ten thousand years. Sweet potatoes are not for the Thanksgiving feast anymore because of their big number of health benefits people are starting to consume them on a daily basis. The most nutritious way to eat sweet potatoes is to either roast them or bake them. Boiled sweet potatoes can lose a lot of their minerals, nutrients, and vitamins.
The plant is a herbaceous perennial vine bearing heart-shaped leaves and medium-sized sympetalous flowers. The edible tuberous root is long and tapered with a smooth skin whose colors range from yellow, orange, brown, red, purple, and beige. The color of its flesh ranges through many colors and they are white, beige, red, pink, violet, yellow, orange, and purple. Sweet potatoes verities with white or pale yellow flesh are less sweet and moist than those with red, pink, or orange flesh.
Sweet potatoes also are called many other names in other countries and those names are camote, kamote, ubi jalar, ubi keladi, shakarkand, Satsuma imo, batata or el boniato. Sweet potatoes are an excellent source of these following vitamin and nutrients: Vitamin A, Vitamin B6, Vitamin C, copper, iron, manganese, potassium, and dietary fiber. They contain as much beta-carotene in the form of Vitamin A as a carrot does. Beta-carotene is associated with the prevention of cancer, heart disease, asthma, and rheumatoid arthritis. One way to know if the sweet potatoes have a lot of beta-carotene in them is to remember the darker the skin, the more beta-carotene it has in it.
This vegetable also contains carotenoids in the form of carotene. Carotenoids are known to help the blood sugar become normal and to lowering the insulin resistance.
Sweet potatoes are a rich source of antioxidants and these antioxidants help to remove free radicals from the body, protect cells from being damaged, and help to repair the cells that have been damaged.
Here is a simple and easy recipe for eating sweet potatoes. I was listening to the Food Network and caught this recipe. Believe me when I say that sweet potatoes are not just for Thanksgiving anymore.
Preheat the oven to 350 F degrees. Peel and cut two pounds of red-skinned sweet potatoes into one-inch pieces and put the pieces into a nine by thirteen baking dish. In a small bowl whisk together two tablespoons of olive oil, two tablespoons honey, and one teaspoon fresh lemon juice.
Pour mixture over the sweet potatoes and toss to coat. Sprinkle with salt and bake, stirring occasionally for about one hour or until the potatoes are tender.
Related posts: