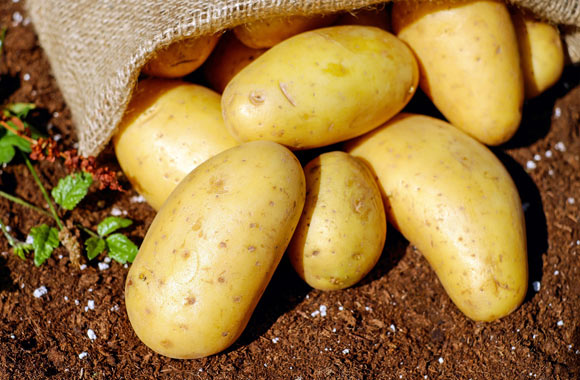 Potatoes are available all year around due to the fact that they are harvested all year round somewhere in the United States. They are the swollen portion of the underground stem which is called a tuber and it provides food which some people consider to be the comfort food. Potatoes are the number one vegetable planted in the United States. If the potato plant is allowed to flower and fruit, this plant will bear inedible fruit that looks like a tomato.
Potatoes can be eaten in many different forms such as roasted, mashed, baked, French fries, and potato chips. Potatoes are loaded with many things such as butter, sour cream, melted cheese, bacon bits, and some people eat potatoes with ham, turkey, cheese on them. Some people eat them as a loaded down meal. When the potatoes are loaded down with the extra, it is just an excuse waiting for a heart attack.
This vegetable is part of the Solanaceae or the nightshade family. Part of this family is the tomatoes, eggplants, peppers, and tomatillo. Potatoes have been cultivated for over a thousand years. This vegetable is considered to be nutrient dense which means that the person eating the potato will receive many nutrients compared to the calories they will receive.
Potatoes have substances called kukoamines which are good for lowering the blood pressure in our bodies.
Potatoes are a good source of Vitamin B6 and this vitamin is involved in more than one hundred enzymatic reactions and these enzymatic are proteins that help the chemicals reactions take place. When these reactions are taking place, Vitamin B6 is considered to be everywhere in the body at one time.
Vitamin B6 plays an important part in our nervous system and many are involved in the brain cell activity. This vitamin is necessary for the creation of amines, a type of message molecule that the nervous system relies on to transmit a message from one nerve to another nerve.
Vitamin B6 also plays a critical role in the making of methylation and this substance changes a dangerous molecule into homocysteine into other benign substances. Eating food rich in Vitamin B6 can help the homocysteine levels stay low and this would prevent the risk of heart attacks or stroke.
One baked potato will give a person 11.7% of the daily requirement for fiber, but the person must remember that the dietary fiber is in the skin of the potato. The fiber that you receive when eating a potato is half soluble and half insoluble which means that the person will stay regular with their bowel movements and helps to lower cholesterol in their body.
Potatoes are choke full of Vitamin C and potassium. Since we don't eat the potatoes raw, the Vitamin C is lost because of the heat of cooking. Vitamin C is good forward off the common colds and flu plus Vitamin C is good for bone formation, teeth formation, digestive, blood cell formation, speeds up the wound healing process and even helps us cope with stress.
Related posts: