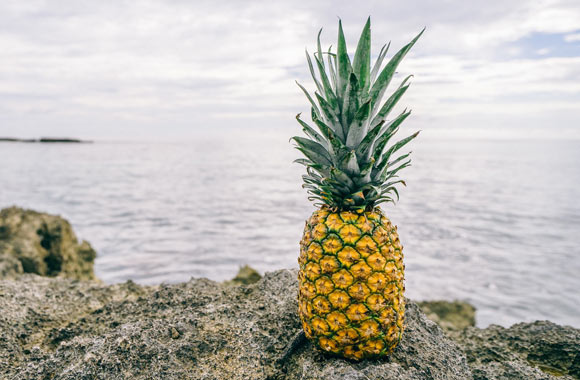 Pineapples or Ananas comosus belong to the Bromeliaceae family. The Spanish name for the pineapple is pina and the root of its English name lies in its appearance which is similar to a pinecone. The pineapple is, in fact, not a single fruit but a composite of many flowers that fuse together around a central core. They are said to be native to South America and were first discovered by the Europeans in 1493 on the Caribbean island known as Guadalupe. These vibrant and tropical fruits are delicious to eat and are a storehouse for many health-promoting minerals, vitamins, and essential compounds.
Bromelain, a complex substance that is found in the stems and core of pineapples is known for its anti-inflammatory benefits. Bromelain helps in reduce swelling in inflammatory conditions like arthritis, sore throat, acute sinusitis, and gout. Regular consumption of about one-half cup of fresh pineapple is said to help relieve painful joints of osteoarthritis. It also helps in reducing the recovery time for surgeries and injuries as it speeds up tissue repair. As a proteolytic enzyme, it helps in breaking down proteins allowing the body to digest them more efficiently. It cleans blood by removing toxins and debris from the bloodstream.
Low in calories (50 calories per 100g serving) and with no saturated fats or cholesterol, the pineapple is rich in soluble and insoluble dietary fiber like pectin. It also contains a group of sulfur that aid digestion. The fruit has anthelmintic effect as it helps get rid of intestinal worms.
Vitamin C is a water-soluble antioxidant that defends the aqueous areas of the body against free radicals that damage cells, promote plaque built up in arteries thus causing atherosclerosis and diabetic heart disease, cause airways spasms that lead to asthma attacks and damage cells of the colon making them more susceptible to cancer and they contribute to the pain of osteoarthritis and rheumatoid arthritis. Diets, high in vitamin C are useful in preventing or reducing the severity of all of these conditions. Being rich in vitamin C, pineapples are good for oral health as it helps prevent periodontal disease and gingivitis. It is also required for collagen synthesis in the body. Collagen is required for maintaining the integrity of blood vessels, skin, organs, and bones. Regular consumption of vitamin C helps the immune system to develop resistance to infectious diseases.
Its high manganese content is particularly helpful to older folk whose bones become brittle as manganese assists in the development of strong bones and connective tissue. A single cup of fresh pineapple provides almost 75% of the recommended daily amount. It also helps in healing wounds and keeping skin healthy; regulating blood sugar levels and helps the immune system fight disease.
Pineapples contain Vitamin A and beta-carotene which is vital for maintaining healthy vision and prevents age-related macular degeneration. Thiamine or vitamin B1 is responsible for converting carbohydrates into energy as well as for muscle and nervous system functioning. It is found in Pineapples, egg yolk, and meat.
Pineapples have anti-coagulating properties which discourage blood clot development. Fresh pineapple juice is said to be a remedy for morning sickness too.
Related posts: