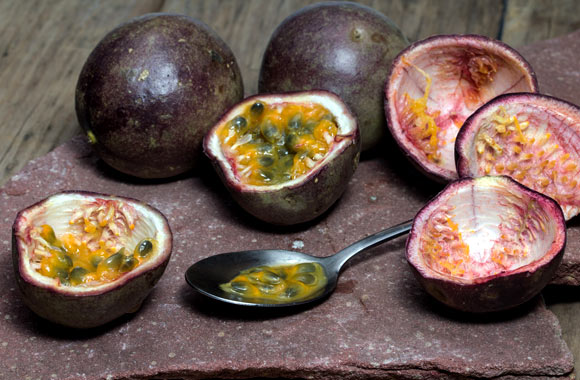 The exotic Passion fruit belongs to the family if Passifloraceae and is known scientifically as Passiflora edulis. It is also known as a Granadilla and is native to the subtropical regions of South America. Together with its pleasant taste, smell, and appearance, the Passion fruit is known for its various health benefits.
Damage caused by free radicals lead to many degenerative and chronic diseases such as immune system problems, Alzheimer's disease, heart disease, Dementia, arthritis, atherosclerosis, and diabetes. The seeds of the passion fruit are an excellent source of polyphenols compounds which provide protection against free radicals. Some of these compounds also prevent premature wrinkling of the skin caused by UV radiation.
The passion fruit seeds have been found to have vasorelaxant effects from major polyphenols, piceatannol and scirpusin B. This property helps widen the blood vessels which results in the relaxation of the smooth muscle cells within the blood vessel walls. This, in turn, leads to a decrease in vascular pressure which is important for a healthy cardiovascular system.
Magnesium, an essential mineral plays an important role in carbohydrate metabolism and is essential for a proper heartbeat and nerve transmission. It also helps genes to function properly and is necessary for the development of strong bones. Passion fruit seeds make a significant contribution to the daily recommended intake of magnesium.
The insoluble fiber found in passion fruit promotes intestinal health. In fact, the seeds of the fruit provide 64.1 grams of fiber per 100g of seeds. The addition of passion fruit seeds to the diet enhances intestinal amylase activity and reduces caecal pH and caecal ammonia content. Amylase is important in converting complex sugars into simple sugars during the digestion process. Caecal pH and ammonia assist in balancing bacteria in the intestine and may also help in reducing the risk of tumors in the colon. Fiber helps transport toxins out of the body, promotes regular bowel movement, helping to prevent constipation and hemorrhoids. The high fiber content also helps in weight loss and makes the fruit an ideal inclusion in a healthy weight loss diet.
The juice of the passion fruit is said to reduce cancer cell growth and research is being carried out further prove this.
Recent studies have shown that the antioxidants found in granadillas help in treating and preventing asthma, wheezing coughs, and other allergic ailments.
These fruits are also said to be helpful in overall relaxation of the body and have somniferous properties which help provide a sound and restful sleep.
Related posts: