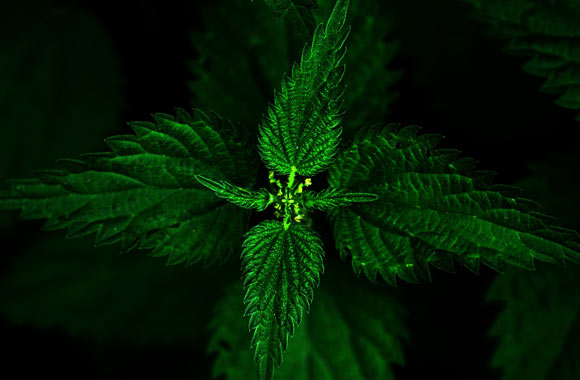 Nettles usually appear in the same place year after year and if you would ever encounter these plants with your legs bare, you would never forget the time. Nettles are covered with tiny, but nearly invisible hair that makes your skin burn and is soon followed by a redness that turns into skin irritations.
The name of the plants "Nettles" means "I burn" and comes from the Latin word "Uno". The most common one is called the Stinging Nettles and stands about two to four feet high. This plant has a rather stout, ribbed, hollow stem and has oval, long-stand, dark green leaves. The leaves are several inches long and have a rough, papery texture with very coarse teeth that sting. The leaf tip is sharp-pointed and the base is heart-shaped.
A person looking for these plants can look in several different places and they are in the rich soil, disturbed habitats, moist woodland, thickets, along riversides, and along partially shaded paths. You can freeze them, steam them, and put them in stews or soups. Cleaning and chopping the nettles while wearing work or rubber gloves. After you cook the nettles for a while, the stingers will soon become deactivated and they become a wonderful edible plant to enjoy.
People have used nettles for medicine, food, fiber, and dyes. When picking the nettles, make sure to do it before they flower in the spring because they are bad for the kidney after they have flowered. New nettles make an appearance in the fall, so make sure you pick them before the frost kills them. When you pick the nettles to make sure you wear work gloves and a long-sleeved shirt. If you find a nettles plant when you don't have gloves, make sure you put your hand in a bag and strip the young leaves from top to the bottom.
Many of the health benefits are due to the fact that nettles are rich in potassium, calcium, iron, manganese, magnesium, phosphorus, silica, iodine, silicon, sodium, and sulfur. They also provide a wonderful amount of Vitamin C, beta-carotene, ten percent protein, and the B Complex Vitamin.
Nettles can be used as a cough medicine for people with asthma, mucus conditions of the lungs, chronic coughs, the flu, cold, bronchitis, and pneumonia. There are many more diseases that nettles help to cure and they are gout, glandular disease, poor circulation, enlarged spleen, diarrhea, dysentery, worms, intestinal and colon disorder as well as help to prevent hemorrhoids.
Stinging nettles contain natural antihistamines and anti-inflammatory which will open up constricted bronchial and nasal passages, help to ease hay fever, as well as helping to get rid of nasal and sinus type's allergic problems.
Eating the nettles or making a tea out of them makes your hair shiny, healthy, brighter, and thicker. Nettles also help your skin to look healthy and clear. Nettles have cleansing and antiseptic properties, so nettles are good as a facial and steam rinse. Nettle tea is also given to houseplants to help them grow.
Related posts: