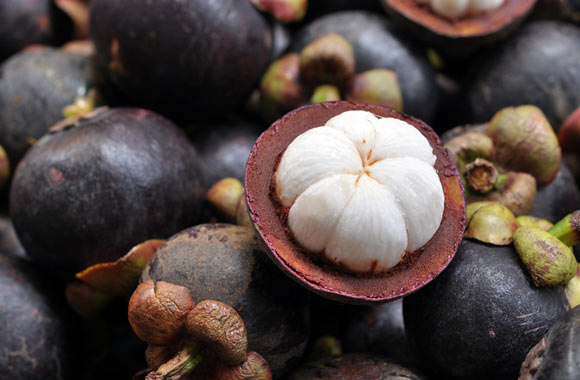 The Mangosteen or Garcinia Mangostana L. is native to Indonesia and has been hailed for centuries as a traditional medicine and for its innumerable health benefits. The fruit tastes like a cross between an orange and a peach and is classed as a "Superfruit" although it is not as high ranking as most.
Xanthones are the primary active component of Mangosteens and recently been discovered to be of the polyphenolic group and similar in structure to bioflavonoids. About two hundred Xanthones have been identified and of these, forty are to be found in the mangosteen. Xanthones have been found to have anti-inflammatory, anti-allergic and anticonvulsant properties. Other antioxidants contained in the mangosteen are polysaccharides sterols, proanthocyanidins, and catechins but they have less medicinal benefit than xanthones.
These compounds with their antioxidant properties are useful in fighting the oxidation by peroxides and oxygen that causes free radicals that damage and destroy cells. The cellular damage caused by free radicals cause cancer and other diseases. Antioxidants protect the body from strokes; heart disease, neurological conditions, and different cancers as they repair, damaged cells, capture, and destroy free radicals.
The three main xanthones in the mangosteen are alpha mangostin, a potent antioxidant, gamma mangostin, a powerful anti-inflammatory and Garcinone E, a strong anti-tumor agent. These have been found to be effective in preventing arthritis, osteoporosis, high blood pressure, atherosclerosis, kidney stones, glaucoma, neuralgia, Alzheimer's and in treating aging, depression, skin diseases, allergies, ulcers, diarrhea, obesity, fever, and pain.
The Xanthones are also responsible for lowering cholesterol in the bloodstream, which brings about a decrease in the risk of strokes and heart disease. Xanthones prevent LDL from being oxidized thus inhibiting it from clogging the arteries and causing blockages.
Alpha mangostin is effective in treating bacterial infections, especially methicillin-resistant Staphylococcus aureus and vancomycin-resistant Enterococci. Research shows that Alpha mangostin improves the effect of antibiotics such as Ampicillin and Minocycline and it inhibits the actions of the Mycobacterium tuberculosis.
Catechins are five times more potent as antioxidants than Vitamin C, Polysaccharides have highly prized for their anti-cancer and antibacterial abilities as they inhibit mutated cells from sticking to healthy cells that help in stopping the spread of cancer. They also are effective against intracellular bacteria.
Quinones have anti-bacterial properties as well as being strong oxidants while Stilbenes help plants provide a defense against fungi. They are known to retain this property once they have been ingested. Stilbenes are also good antioxidants.
Studies have also revealed that the mangosteen is a weapon against gum disease or periodontitis and a gel containing mangosteen juice has shown a marked improvement in a control group of patients.
A paste made from the skin of the mangosteen has shown to relieve the symptoms of eczema without the harmful effects of cortisone used to treat the condition.
This is a fruit with many health benefits that the medical fraternity is finding to be more beneficial than some drugs, as these come with several side effects.
Related posts: