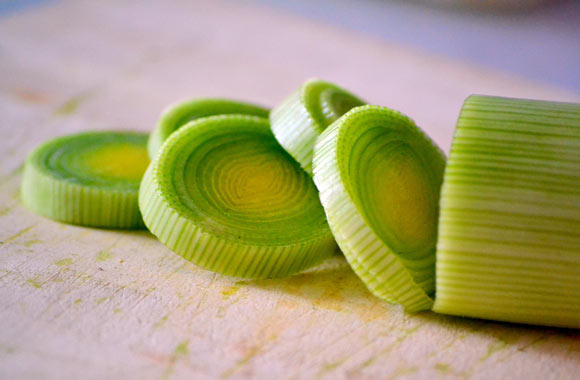 Leeks look like a large scallion by having a small bulb and long, white cylinder stalk of superimposed layers that flows into green, tightly wrapped, flat leaves. Cultivated leeks are usually twelve inches in length and measure one to two inch in diameter. This plant has a fragrant flavor that reminds someone of shallots, but the fragrant is sweeter and more subtle.
A wild leek is much smaller in size but has a stronger and more intense flavor. They are only available for a short time each year.
Leeks are a rich source of dietary fiber, folic acid, calcium, potassium, and Vitamin C. Leeks are easier to swallow than standard onion and when cooked with food, leeks do not overpower the foods as onions sometimes do. They have laxative, antiseptic, diuretic, and anti-arthritic properties.
A combination that is in leeks is helpful in steadying elevated blood sugar in the body and this combination includes Vitamin C, Vitamin B6, folate, iron, and manganese. This combination does not slow the absorption of the sugars from the intestinal tract. They lower the sugar levels by merely ensuring that the sugars are properly metabolized in the body.
A daily intact of leeks promote the raising of the good cholesterol "HDL" while lowering the bad cholesterol "LDL". Leeks also prevent colon and prostate cancer.
There are many vitamins and minerals that leeks are a rich source for and one of those minerals is the flavonoids, kaempferol, which helps to protect our blood vessel linings from damage, including damage by overly reactive oxygen molecules.
Leeks are high in an important concentration of the B vitamin folate and folate supports our cardiovascular system by keeping our levels of homocysteine in its proper balance. The excessively high amount of homocysteine is the main factor that promotes cardiovascular diseases.
Present in leek is the antioxidant polyphenol and these polyphenols play a direct role in protecting our body's blood cells and blood vessels from oxidative damage.
The way to cook leeks is to cut them very thin and preparing them with this Healthy Sauce over them. Let the leeks sit for five minutes after cutting them and before cutting them to enhance the health qualities they do have.
For someone that doesn't know how to cut leeks, here is how I do it. Cut off the top parts of the leeks and remove the outer leaves. Cut off the roots and cut in half. Separate the leeks and run them under warm water until all the dirt is off of them. Cut the leeks again into two-inch strips.
Heat three tablespoons of broth in a skillet until it steams. Add one pound of cut leeks and cover the pan. Sauté for four minutes and add two more tablespoons of broth, reduce heat to medium-low. Sauté again, this time for only three minutes and uncovered while stirring frequently. Toss with two tablespoons of pure virgin olive oil, one teaspoon of lemon juice, and use salt and pepper to taste.
Related posts: