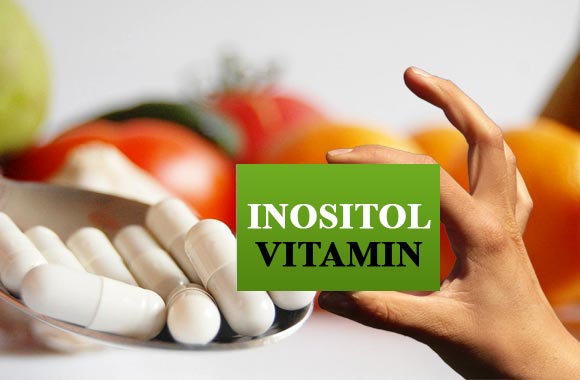 Inositol vitamin is a hexa-hydroxy cyclohexane. Of the nine possible isomers only the optically inactive isomer namely Myo-inositol is biologically active.
Sources
Inositol occurs in an appreciable amount in the animal as well as plant kingdom.
Animal sources: Inositol is found in meat. Liver, brain, muscles, red blood cells, and tissues of eyes. Milk and yeast also contain a considerable amount of inositol.
Plant sources: It occurs in plant kingdom in fruits such as bananas, vegetables, grains, nuts, beans, and seeds.
It may also be synthesized from glucose 6 phosphate and in the human being, it is mostly manufactured in the kidneys.
Functions
Inositol as phosphatidylinositol 4, 5 bisphosphate is an important component of cell membrane phospholipids. When certain receptors present on the cell surface are occupied by their respective hormones which are ADH, acetylcholine, and catecholamines, the enzyme phospholipase C is activated. A unique protein termed G protein is involved in both the receptor binding and activation of phospholipase C. These gives rise to very important second messengers which are 1, 2 diacylglycerols and inositol 1, 4, 5 trisphosphates. These exert the following reactions:

1, 2 diacylglycerol is an activator of protein kinase C, the activity of which is dependent on calcium ions.
Inositol triphosphate releases large amounts of calcium ions from intracellular storage sites, i.e. mitochondria, sarcoplasmic reticulum etc. The activated protein kinase C can phosphorylate specific substrates which show their specific effects. Various other hormones and hormone-like substances bring about their effects by similar actions.

Its function to modulate serotonin activity.
It plays role in the guidance of nerve.
It promotes the growth of hairs.
It controls levels of estrogen in the body and therefore prevents breast cancer chances.
It is important since inositol breaks down the fats and is therefore helpful in reducing cholesterol. So in human, it has been shown to have a lipotropic effect.
It is excreted in a large amount in the urine of untreated diabetics and the amount excreted falls with insulin therapy. The seminal plasma is very rich in inositol but its role in this body fluid is still not known.
Deficiency
The significance of inositol in human nutrition is still unsettled. In case of its extreme deficiency, it may show loss of hair, skin diseases such as eczema, eye abnormalities as well as increased cholesterol levels. In mice, its deficiency may lead to growth retardation and a peculiar hairlessness.
Surplus
There is no known toxic effect due to its excessive intake so far but it may lead to diarrhea.
Related posts: