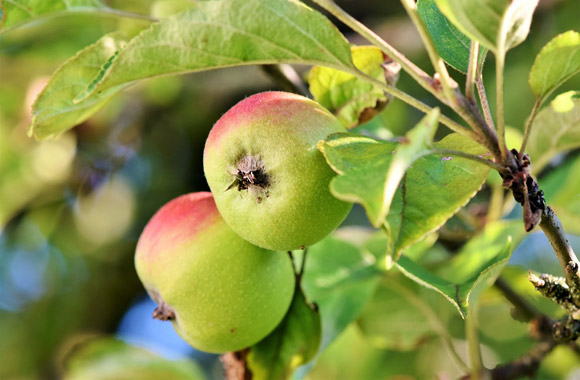 Being the richest source of all the important nutrients and energy, fruits are one of the bastions of our good health. God has gifted them with flavor, taste, energy and essential vitamins and minerals. They not only keep us healthy but protect us from a number of diseases. Adding fruits to your diet is one definite way to a healthier body. Fruits possess various benefits; some of them include;
Important Vitamins
Different kinds of fruits provide different kinds of vitamins but as whole fruits provide all the vitamins necessary for our body. They are the rich sources of vitamin A, vitamins B, vitamin C, vitamin D and vitamin E. all of these vitamins are necessary for growth n and functioning of our body organs and cells. Vitamin E acts as an antioxidant which is necessary for removal of all the toxins from the body.
Essential Minerals
Fruits are also the richest treasure of minerals as well. They provide all the essential minerals such as iron, zinc, calcium, potassium, and magnesium etc. Fruits not only provide nutrition to our food but with their attractive color, they add more colors and attraction towards food. They make food more palatable. This quality of fruits can be utilized for luring your children to eat fruit and get minerals and important nutrients they possess.
Intestinal Problems
People usually meet the problem of digestion and consequent constipation. Most of the time causes behind these are lack of dietary fibers intake. Lack of fibers in the diet allows fecal matter to stay there and difficult to digest properly in the intestine and also provide difficulty in its leaving from the intestine or rectum. But if you eat fruits such as banana which is rich in fibers, you will really feel a difference. You will find your digestion process quite improved and enhances. You will evacuate fecal matter on time if your diet is enriched with fibers rich fruits. All of the digestive problems of abdominal cramping constipation or, diarrhea, can easily be alleviated by eating fruit. Natural fibers in them help to regulate the bowel movements.
Protection Against Different Diseases
It has been found out that fruit possesses the wonderful ability to regulate cholesterol levels in the body. They lower it level and therefore prevent the problem of high blood pressure and heart-related diseases. Fruits are natural remedies for many of the diseases as well. Not only they protect us from diseases but provide the remedy for certain diseases such as constipation and cancer. They possess antioxidant activities that destroy free radical and make the body free of bad toxins. In this way, these toxins do not react with the body and therefore limit the development of any such cancerous changing in the body.
Help Maintaining Body Weight
Fruits are best in maintaining your body weight. This is because they possess natural nutrients e.g. carbohydrates, proteins and fats all are naturally occurring and free of bad effects. Therefore if we use them, we don't gain weight or suffer from diseases. In fact, they provide us with all the necessary nutrients and maintain our weight to an ideal level. People even can use them in order to lose weight but at the same time prevent themselves from nutrients deprivation.
Stimulate Memory
Studies suggest that fruits can increase your memory. People, who eat fruits daily can save more information in their mind and even remember it faster in opposition to those who don't participate in consuming fruits. The risk of having health problems can be lowered by eating fruits on regular basis.
Thus, fruits are the best natural foods in this world. They are the types of food that grow on a tree that you can consume exclusively of any cooking or preparation.
List of Pomes Fruits
---
Pear
Called the "gift of the Gods" by Homer in the epic The Odyssey, pears have held in reverence throughout time. The Pyrus communis has been tracked as far backs as three thousand years and is said to have originated in western Asia. However, some say that it was discovered much earlier by the people of the Stone Age. Pears belong to the rose family and are related to the Apple and Quince.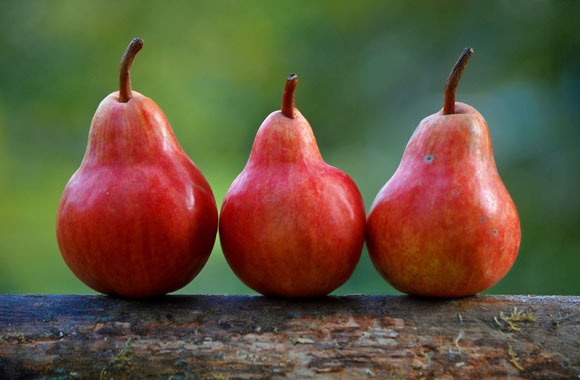 Pears are fiber-rich and a medium sized pear can provide as much as 6 grams of the 25 to 30 grams required daily. The fiber is insoluble and absorbs water which then allows it to bulk up and brush against the intestinal wall moving waste away. This helps prevent colon cancer. Fibre has also been linked to lowering the risk of breast cancer. Fibre also helps keep cholesterol levels low.
Another cancer-preventing compound found in pears is the Hydroxycinnamic acid which has been associated with the prevention of stomach and lung cancer. The antioxidant Quercetin is also contained in pears and is said to prevent cancer and artery damage that can lead to heart problems. Copper, also found in pears has been associated with the reduction of the risk of colon cancer. Some studies have shown that there was a reduction of 34 percent in breast cancer for those consuming fruit with a high fiber content.
The primary cause of vision in older adults is due to age-related macular degeneration but research has shown that the addition of fruits with carotenoids and antioxidants like Vitamin A, C, and E help reduce the risk by as much as 36 percent.
Pears are also a great source of Copper and Vitamin C, both being antioxidants which fight free radicals thus making them good for the immune system. Vitamin C stimulates white cells to fight infection and also kills many viruses and bacteria. It also aids in the regeneration of Vitamin E that has been made inactive by free radicals.
Copper protects the body from free radical damage. It is a component of the superoxide dismutase (SOD) an enzyme that eliminates free radicals that are generated during metabolism and when white cells are being attacked by bacteria or viruses. Pears provide 11.1 percent of the daily recommended Vitamin C intake and 9.5 percent of the daily recommended intake.
Pears contain Vitamins K, B2, B3, and B6. They also contain folate which for nursing moms is important in milk production. They also contain calcium, magnesium, potassium, and manganese which all help with heart-related diseases, cholesterol level balance and keep the immune system healthy. Boron is also found in pears and is needed to retain calcium and together help in the prevention of osteoporosis.
They are also effective in relieving fever as they have a cooling effect and are said to be a great source of energy due to its high amounts of fructose and glucose.
Quince
The Quince or Cydonia oblonga as it is scientifically known as a member of the Rosaceae family of pome fruit. It is native to Asia Minor and is the only fruiting tree in the Cydonia genus. The quince is mostly mistaken for a pear and has as many health benefits.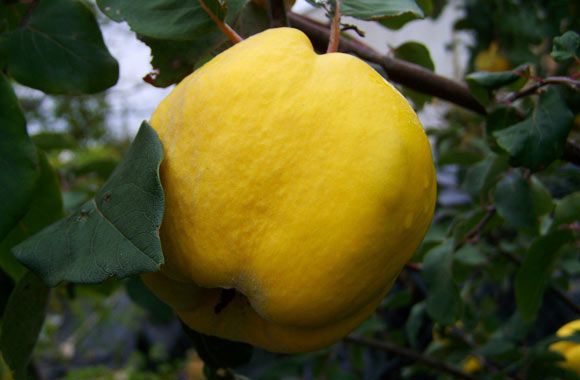 The Quince is a storehouse of polyphenolics antioxidants, minerals, vitamins and dietary fiber. The astringent compounds that make up the pulp are known as tannins. These tannins are catechin and epicatechin that bind with cancer-causing chemicals in the colon and protecting the mucous membrane from cancers, diverticulitis, and inflammatory bowel disease.
A high level of pectin, a soluble dietary fiber, is found in quinces and together with fiber, it helps lower the LDL cholesterol level. It also helps reduce the formation of gallstones and aids with digestion.
The antioxidants found in quinces are useful in relieving stress and as they are low in saturated fat, sodium, cholesterol and high in fiber, the quince makes for a great addition to a weight loss diet. The fiber helps in relieving constipation; helps prevent hemorrhoids and aiding those with gastric ulcers. The low salt content prevents fluid retention which is a contributing factor in hearing disease. The potassium contained in these fruit help in keeping hypertension under control. The vitamin C in quinces together with minerals such as copper, iron, potassium and magnesium help boost immunity, reduce inflammation and viral attacks on the body.
Studies, although not conclusive, have found that the quince has anti-allergenic properties and it is suggested in the treatment of atopic dermatitis, cystitis and is perfect for those with food allergies too. The fresh juice of the quince is said to be beneficial in treating anemia, respiratory illness, and cardiovascular disorders.
A Japanese study shows that the peel of the quince has antiviral substances which inhibit the growth of organisms that cause hepatitis A, B, and C. The minerals and vitamins contained in the quince are said to stimulate liver function and helps in treating pancreatic deficiency.
To treat bad breath, sore throats, mouth ulcers, burns and to moisturize and heal blemishes, boil quince seeds in water, strain and cool. The mixture should be used as a mouthwash, a cleanser or applied topically in the case of burns.
The potassium is good for the heart and helps the body fight against stroke, heart disease and helps in reducing the risk of developing high blood pressure.
With all of these health benefits, isn't it time you took advantage of the quince and its medicinal and healing attributes.
Apple
"Eat an apple every day and keep the doctor away!" We have all heard this line, but how true is it? Research has shown that eating just one apple a day can reduce the risk of breast cancer, lung cancer, Alzheimer's disease, and more!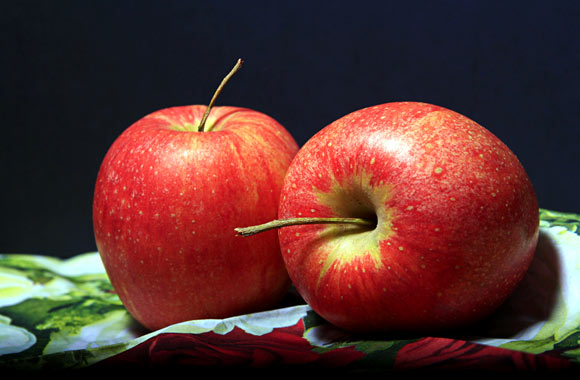 The many different types of health benefits that apples have to offer are simply quite amazing. This delicious snack that needs very little preparation to enjoy is filled with many health improving assets. One of the most recent studies on apples has led researchers to believe that the apple contains large amounts of antioxidants. The properties that apple contain are believed to help us reduce the risk of certain diseases that can be caused by free radicals. Scientists believe that the antioxidant compounds found in apples can help prevent and repair damage to cells. The antioxidants that apples contain are phytonutrients, flavonoids, and polyphenols. Apples are also high in tartaric acid, quercetin, procyanidin B2, and epicatechin. These are the essential compounds that help our bodies fight and protect us against the harmful effects of free radicals. Research has shown that by consuming apples on a regular basis, our risk of cancer can be greatly reduced. The Triterpenoids, found in the peel of the apple, have shown to fight cancer cells in the liver, colon, and breast.
The antioxidants found in apples not only help us prevent and fight cancer, they also can help us with fight diseases that affect our brain and nervous system like Alzheimer's and Parkinson's disease. A recent study was conducted on whether or not consuming apple juice on a regular basis could affect the aging of the brain. The study showed that in mice, those who are fed an apple based diet showed higher levels of the neurotransmitter acetylcholine than those mice that were not on the apple based diet. These higher levels of acetylcholine may help in reducing the early onset of Alzheimer's disease. Another recent study showed that eating fruit such as apples, with high amounts of fiber, may help protect us against Parkinson's disease.
In addition to offering us wonderful antioxidant properties and fighting certain diseases that can affect our brain and body, apples have also been known to help reduce cholesterol levels, improve our hearts, decrease our risk of developing diabetes, prevent gallstones, control our weight, detoxify our liver, prevent hemorrhoids, prevent and control digestive problems such as diarrhea and constipation, improve the quality of our teeth, and even prevent cataracts!
So what kind of apples should you consume? They are all very high in nutrients and antioxidants, however, studies have shown that the Red Delicious and Granny Smith apples rank the highest on antioxidant concentration per serving size. When you purchase apples, make sure to select fresh, bright, and firm apples. Avoid apples that may show signs of age or marks on their surface. Keep apples at room temperature or in the refrigerator. Always make sure to thoroughly wash your apples before consuming them.
Adding apples to your daily diet not only will keep the doctor away but will make you feel healthy all over. Apples taste absolutely delicious, they are inexpensive, and easy to take with you for a snack on-the-go; so visit your local orchard or fruit market and start enjoying this wonderful fruit!
Related posts: