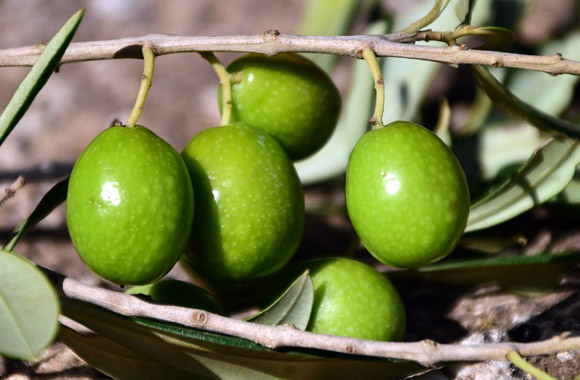 List of Drupes Fruits
Apricots | Cherry | Coconut | Nectarine | Olives | Peach | Plums
---
Apricots
Apricots can be enjoyed in many delicious forms, whether they are fresh, dried, or even juiced. They are known for their sweet taste and high nutritional properties. Believed to have originated in China more than 4000 years ago, this fruit was known to positively help women with fertility. Over time, apricots made their way to the Middle East, the Mediterranean, Europe, and finally North America. Vibrant orange-yellow in color, apricots are generally available in the summer months.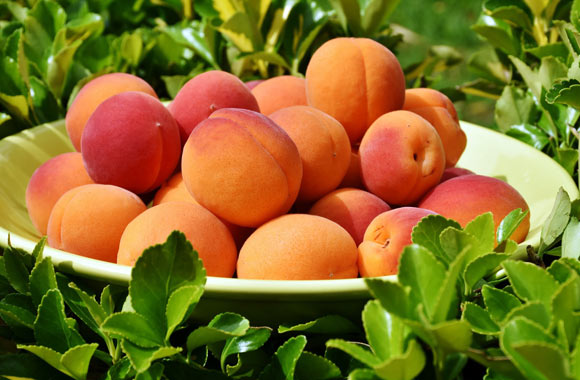 Apricots contain great sources of vitamins and nutrients. High in Vitamin A, they contain almost 20 percent of the daily value of Vitamin A that we should consume. Vitamin A is great for our eyesight, healthy growth, our appetite and taste buds. Apricots also contain a great amount of Vitamin C, which is a wonderful antioxidant and great for our immune system and preventing diseases, ailments, and even cancer.
Apricots also have good nutrients such as iron, copper, potassium, dietary fiber, and beta-carotene. These nutrients are important in helping us prevent disease and ailments. The fiber found in apricots can help us maintain a healthy weight, keep our digestive tract healthy and also prevent us from suffering from constipation or other digestive issues. The potassium in apricots can help us maintain a healthy blood pressure level and reduce the risk of hypertension. Apricots are great for individuals that suffer from anemia because they contain an excellent source of iron. Apricot juice is actually recommended for pregnant women and young children because of its excellent source of iron and calcium compounds.
In addition to helping us fight disease, cancer, maintain a healthy weight, control cardiovascular and blood pressure levels, apricots are also great for maintaining healthy skin. Many people use apricots in their daily skin care regimen. Apricots have been traditionally used as scrubs and ointments for the skin. The Vitamin A found in apricots has been proven to help reduce skin inflammation and reduce acne. The oil from apricots can help keep our skin smooth and shiny. It is a wonderful moisturizer and can help reduce the symptoms of itchiness from skin ailments like eczema. Apricot oil is also great for providing relief to individuals suffering from sunburn. The Vitamin C found in apricots can improve skin elasticity, which can help slow and prevent the skin from aging.
Apricots usually can be purchased in North America from May to September. This is the best time to receive fresh, ripe, and nutrient filled apricots. Look for apricots that are golden-orange in color. If they are a pale yellow, they were picked prematurely. Store your apricots in the refrigerator and use them as soon as possible. Again, you can receive the health benefits from apricots in pretty much any form. Whether they are raw, in juice form, dried, in jam, marmalade, jelly, or cooked (which will give you the least amount of nutrients), apricots make a wonderful and healthy snack for anyone. They are sweet, delicious, and offer a wonderful array of health benefits.
Cherry
The wonderfully delicious cherry is a nutritional powerhouse with so many exceptional health benefits. The cherry is a native of the Eastern European and Asia Minor regions and belongs to the Rosaceae family. There are many varieties of cherries but the two most popular are sweet cherries and tart cherries. The cherry is a "drupe" fruit, meaning it has a central seed with a fleshy exterior.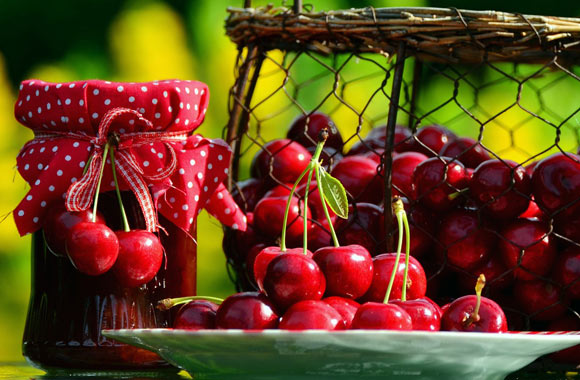 Known as the "Super-fruit" cherries are packed with rich sources of nutrients, minerals, vitamins, and fiber and are one a few low-calorie fruits. A single cup of cherries can provide one with 87 calories, 1 gram of protein, 3 grams of fiber and 22 grams of carbohydrates. They are also chock-a-block full of antioxidants, essential for our wellbeing.
Cherries contain polyphenolic flavonoids compounds which give them their rich purple, red or blue color and are concentrated in the skin of the cherries. Known as Anthocyanins, they inhibit the actions of cyclooxygenase-1 and 2 enzymes thus acting as an anti-inflammatory. Consuming cherries can, therefore, have potential effect against diseases such as gout, fibromyalgia, arthritis and sports injuries. Eating about 20 tart cherries or drinking juice equivalent to the number could provide as much pain relief as Aspirin or Ibuprofen.
Some research has also shown that tart cherries help the body fight against aging, cancers, and neurological diseases. Other antioxidants or polyphenolic flavonoids found in the cherry are lutein, zeaxanthin, and beta-carotene, all of which are known for their cancer-fighting abilities. These compounds also protect against harmful free radicals that aid the aging process. Their anti-inflammatory properties have been effective in reducing heart disease by scavenging action against free radicals. Anthocyanin is good for the brain and has been shown to improve memory.
The cherry also contains another anti-oxidant called Melatonin which due to its ability to cross the blood-brain barrier. It produces a soothing effect on the brain neurons helping to relieve neurosis, insomnia, and headaches and calms down nervous system irritability. It was found that individuals with low melatonin levels have experienced heart attacks. Children with Autism Spectrum Disorder or ASD benefit from eating cherries or drinking cherry juice as the melatonin level increased as it brought about a calming effect on the brain neurons. Melatonin is also associated with slowing down the aging process.
Potassium, a heart-healthy mineral and an important component of cell and body fluids that regulate the heart and blood pressure is found in abundance in the cherry. It is a good source of other minerals like iron, zinc, copper, and manganese too.
Cherries reduce, drastically, the risk of developing colon cancer and the growth of breast cancer cells is slowed as they contain cyanidin, a free radical scavenger. Cherry fruit or juice can help protect against cancer in organs and glands made up of epithelial tissue due to its high beta-carotene content.
The high content of vitamin A in cherries stimulates the healthy growth of hair, nails, and skin.
The cherry stem is also packed with health benefits as it acts as a diuretic when made into a tea.
Considering the health benefits of the cherry, it is definitely worth the cash outlay for a punnet.
Coconut
A commonly overlooked fruit in the western world, the Coconut fruit has been a staple in the diet of many Asian and island countries for centuries. The Cocos nucifera or the coconut is a drupe fruit as it contains a seed encapsulated by three layers – the outer fibrous layer, the hard innermost layer or shell and meat or flesh layer known as Copra. This large nut contains vitamins, minerals, natural oils, and fiber.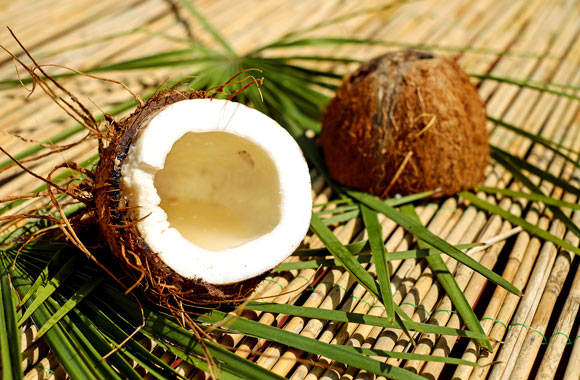 Copra contains lauric acid; a saturated fatty acid is responsible for raising the HDL cholesterol levels and thereby preventing arterial blockages by fat or atherosclerosis.
Coconut has a low glycemic index meaning that glucose is released at a much slower rate into the blood, helping to keep blood sugar levels low. This helps by decreasing the demand made in the pancreas for insulin.
It is a source of quick energy resulting in less storage of body fat thus making it good for those on a weight loss diet. Copra also gives a feeling of fullness over a longer time, helping to speed up metabolism and preventing one from overeating.
The coconut has 60% non-digestible fiber, which helps in to regulate bowel movement and maintain blood sugar levels. The meat of the coconut fruit helps to relieve indigestion, ulcers, colitis, diarrhea, dysentery, and piles whilst the water gives relief for vomiting, bloating and dyspepsia. The oil derived from the coconut helps reduce acid production in the stomach. Coconut oil has antimicrobial properties that help destroy parasites, fungi, and bacteria causing indigestion. It helps to enhance the absorption process of nutrients too.
The water from the coconut is a natural diuretic, alkalizes, and improves the urine output. It also helps with kidney and liver disorders. This "juice" is naturally nourishing and is packed with essential minerals, potassium, calcium; magnesium and sodium which help nourish and electrify the body.
This fruit is rich in antimicrobial lipids, lauric acid and capric acid, all possessing antibacterial, antifungal and antiviral properties which help the body's immune system to build resistance to disease.
The nut is rich in essential minerals like; manganese, zinc, calcium, and irons. These minerals help the fight off osteoporosis infections and prevent tooth decay as well as strengthening teeth and bones.
The oil from the coconut is a natural moisturizer for all skin types and is highly beneficial to those suffering from eczema or psoriasis. The oil contains bioflavonoids that help prevent generative diseases and help in the treatment of dermatitis.
The essential proteins and nutrients present in the oil, help repair damaged hair and makes hair healthy and strong. It also nourishes the hair, giving it a shiny complexion.
In the ancient practice of Ayurveda, the coconut is considered a stress buster. During the massage rituals performed to relieve stress and combat body aches and pain, coconut oil is used. It relaxes the muscles and nourishes the skin.
Coconut water is more nutritious than whole milk and is 99 percent fat-free. It naturally hydrates the body and when taken after an illness, it helps by repairing the damage induced by antibiotics.
With its many functional uses, its nutritional value is vastly underrated but coconuts are nature's medicine cabinet!
Nectarine
A nectarine comes from the Greek word meaning sweet liquid and this close cousin to the peach is known for its luscious texture and juicy nectar. The nectarines are said to have originated in China over 2000 years ago and the Spanish may have introduced the fruit to Americas. There are more than 150 varieties of nectarines with the two main varieties being freestone and clingstone. Nectarines belong to the Prunus persica family.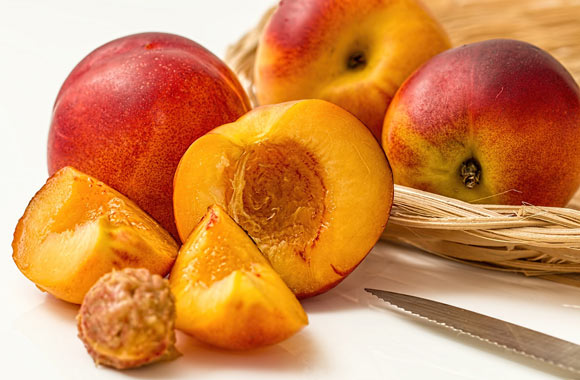 Nectarines are low-calorie fruits, providing just 44 calories per 100g and contain no saturated fats making them perfect if you are on a weight loss diet and is most definitely a heart-healthy food.
Similar to the peach, the main difference being that nectarines are smaller and have a smoother surface unlike the fuzzy surface of the peach, the flesh is firmer and they taste a little more acidic than peaches.
Nectarines are packed with beta-carotene which is crucial to the body for the production of vitamin A. Vitamin A deficiency leads to abnormal bone development, reproductive diseases and in very severe cases, death. A single cup of nectarines provides 214mcg of beta-carotene which also assists in preventing macular degeneration and helps to keep eyes healthy.
One cup nectarine provides 7.7mg of the antioxidant vitamin C which is considered important in the promotion of good health and keeping the immune system strong. Studies also reveal that Vitamin C protects molecules from being damaged by free radicals that cause cellular damage. It also protects the body from the toxins that cause illness.
Lutein is said to have health-protective benefits and the body uses these benefits to support healthy eyes and skin. As an important antioxidant, lutein helps destroy free radicals in the body which have been known to decrease the risk of chronic diseases like cancer. As most people do not consume enough lutein, nectarines are the perfect fruit to add to your diet as 1 cup of fresh nectarines provides 186 mcg of lutein.
Nectarines, in addition to the nutrients mentioned, also provide a range of vitamins and minerals required by the body. A single serving of fresh nectarines provides 2.4 g of fiber and 1.5 g protein. It also provides 9 mg of calcium, 13 mg of magnesium and 287 mg of potassium. These tasty fruits are also rich in folic acid, iron, Vitamin K and naturally occurring sugars which provide energy.
Nectarines are not just a good looking and tasty fruit but their health benefits are plentiful too.
Olives
Olives are one of the world's most widely enjoyed foods although attention is mostly placed on its delicious oil. The fruit is classified as fruit from the Olea Europa tree which is known to live for up to a century. Olives are normally green when unripe and turn black once they ripen. However, some are green when unripe and remain green when they do ripen.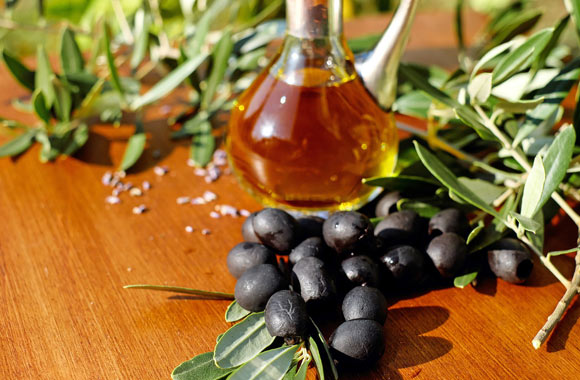 About 80 to 85% of calories from the olives come from fat. These fruits are highly unusual as almost three-quarter of the fat is the oleic acid which is a monounsaturated fatty acid. They also provide, in small quantities, the essential fatty called Linoleic acid, alpha-Linoleic acid and Omega-3 fatty acids, all of which are associated with the reduction of cardiovascular disease. Eating olives help decrease LDL cholesterol helping to reduce the risk of heart disease.
Olives are jam-packed with an astounding range of phytonutrients, some of which are unique to olives. This anti-oxidants and anti-inflammatory nutrient richness extend to the respiratory, cardiovascular, nervous, musculoskeletal, immune, inflammatory and digestive systems.
The most and best-studied antioxidant phytonutrient in olives is Oleuropein and is exclusive olives. It has been shown to decrease the oxidation of LDL cholesterol, lowers several of the many markers of oxidative stress and is a scavenger of nitric acid. It also helps protect nerve cells from oxygen-related damage.
These same phytonutrients also act as anti-inflammatories. Extracts taken from whole olives have shown anti-histamine properties at a cellular level by blocking special histamine receptors called H1 receptors. Extracts from whole olives also help lower the risk of unwanted inflammation as it lowers the levels of leukotriene B4 (LTB4) which is a common pro-inflammatory messaging molecule. Oleuropein decreases the activity of inducible nitric acid oxide synthase. This is an enzyme whose over-activity causes inflammation.
With their antioxidant and anti-inflammatory properties, olives make for natural protection against cancer. The reason for this is because chronic oxidative stress and chronic inflammation are key factors in the development of cancer. The triterpene phytonutrients in olives including erythrodiol, uvaol, and oleanolic acid have been found to slow down the life cycle of breast cancer cells. The same has been shown for gastric cancer as well.
Olives are a remarkable source of flavonoids, phenols as well as iron, copper, and dietary fiber. Oil pressed from olives, which the ancient Greeks referred to as "liquid gold", has moisturizing properties for the hair and skin, helps with a nagging cough or scratchy throat and is great as a lip balm too.
This symbol of peace and happiness is also a great medicine which mankind has been using since time immemorial.
Peach
The Peach is native to China and belongs to the genus Prunus, a family of Rosaceae and is known as Prunus persica. It has similar features to the nectarine, plum and is known as a "drupe."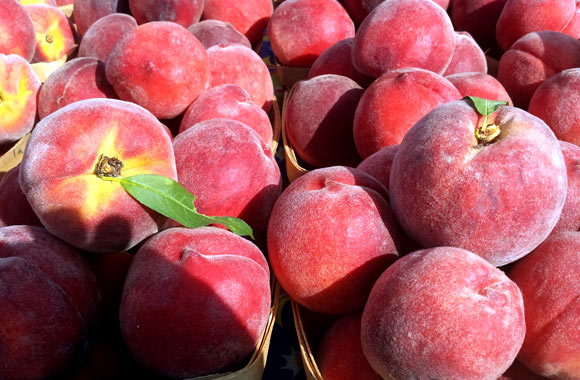 The delicious peach is low in calories, about 39 calories per 100g, and contains no saturated fats. Their high fiber content is made up of both insoluble and soluble fiber. Insoluble fiber collects water which helps increase the bulk of the stool. The stool then acts like brushes and removes the build-up of waste. This is said to help prevent colon cancer. This cleansing of the intestinal wall also increases the number of nutrients being absorbed and also rids the body of toxicity. It also is heart healthy as it helps lower cholesterol levels.
The body converts beta-carotene into Vitamin A and peaches are a valuable source of beta-carotene. Vitamin A is essential to many of the body's functions. Recent studies show that Vitamin A in the diet reduced the risk of developing cataracts whilst other studies showed that it may be useful in curing COPD. Vitamin A is vital for the maintenance of healthy mucous membranes and skin. It is also known to offer protection from oral and lung cancers.
Lycopene and lutein are carotenes give peaches its color and several studies indicate that these two compounds can help in preventing macular degeneration, cancer, and heart disease. These flavonoids act as protective scavengers of free radicals and therefore play a part in the aging process.
Peaches are also a source of iron which is necessary for regulating body temperature, improving metabolism, creating antibodies and hemoglobin.
They are a good source of vitamin C which is an antioxidant which helps fight cancer by preventing cellular change and improving the immune system. Vitamin C is required for connective tissue synthesis in the body and helps in the eradication of harmful free radicals.
The peach is rich in vital minerals like potassium, iron, and fluoride. A potassium deficiency leads to fatigue, anxiety, poor memory, skin problems, muscle weakness, hypertension, cardiac arrhythmia, congestive cardiac failure, and tinnitus. For those using diuretics or suffer from diarrhea or sweat profusely, potassium loss is increased. Iron is required by the body for the formation of red blood cells whilst fluoride is an important component in the development of strong teeth and bones and in the prevention of dental decay.
Peaches make a tasty and beneficial part of a healthy diet.
Plums
With over 2000 varieties, the Prunus domestica or plums as we know them are found in abundance all over the world. They belong to the family Rosaceae, to the genus: Prunus and are drupes. Plums are related to cherries and peaches.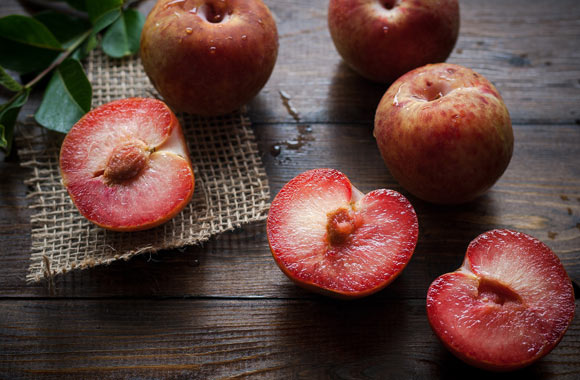 Potassium, an essential mineral, is necessary for maintaining blood pressure and heart rate. A medium sized plum provides 104 mg of potassium. The same sized plum will provide.11 mg of iron which is vital in the production of red blood cells and about .07 mg zinc which the body utilizes in the healing of wounds. They are also a good source of manganese which is a component of the antioxidant superoxide dismutase, copper which aids in the production of red blood cells and myelin that sheath which protects the nerves.
They contain isatin and sorbitol, both of which stimulate the intestinal contraction thus aiding in the regular elimination of waste in the bowel. Lutein, a carotenoid found in plums helps keep the retina healthy and may prevent age-related macular degeneration.
Plums contain no vitamin E or D but have a small amount of vitamin A and k. A single cup of plums provide the body with 9 percent of the daily recommended value of vitamin K and 3 percent of vitamin A. Vitamin K helps in the clotting of blood whilst vitamin A supports healthy vision.
A single plum contains about 30 calories, 18g of fat, 9 g of dietary fiber, is low in sodium and is cholesterol-free. With the high dietary fiber content, plums make an ideal addition to a weight loss program and they create a feeling of fullness which helps to curb overeating.
Flavonoids called anthocyanins are found in plums and function as antioxidants. They help in the prevention of cancer by helping the body rid itself of carcinogenic chemicals. They also inhibit the growth of cancer cells and stop them from spreading. They also assist in keeping the heart healthy by decreasing inflammation and reducing blockages in the blood vessels.
The antioxidants found in plums help in neutralizing the effects of free radicals and thus keep cholesterol levels low and protect cells from free radical damage.
Vitamin C helps the body to absorb iron, creates healthy tissues and boosts the immune system. Plums have a high concentration of vitamin C which is also attributed to protecting against diseases like asthma, colon cancer, osteoarthritis and rheumatoid arthritis. It is also said to reduce the risk of strokes and heart diseases.
Related posts: