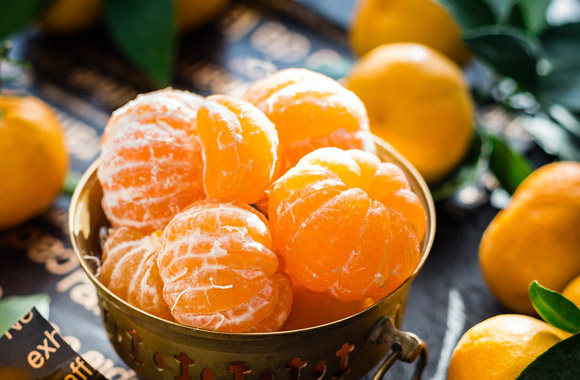 List of Citrus Fruits
Grapefruit | Lemon | Lime | Oranges | Tangerine
---
Grapefruit
Grapefruits were discovered in Barbados in the 18th century and botanists believe that it may be the result of a natural cross-breed between an orange and a pomelo which was brought from Indonesia to Barbados. In 1814, it was given the name "grapefruit" in Jamaica. It belongs to the Rutaceae family and the genus: Citrus. The botanical name is Citrus paradise after its flavor which is said to be like paradise.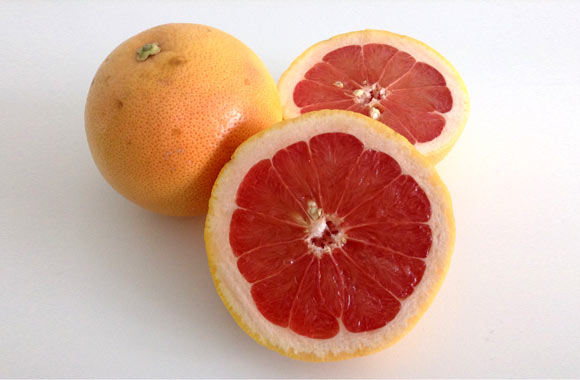 The grapefruit is a powerhouse of Vitamin C which helps to support the immune system and helps in reducing cold symptoms or at least the severity of the symptoms. The more important function that Vitamin C provides is that it prevents free radical damage to cells. It has anti-inflammatory properties and helps reduce the severity of inflammation of asthma, osteoarthritis, and rheumatoid arthritis. Vitamin C also helps oxidize cholesterol which leads to causing heart attacks or strokes, thus promoting heart health. There has been researched recently that vitamin C provides protection against lung and colon cancer. Vitamin C reduces the enzyme that activates cancer-causing chemicals that are found in tobacco smoke. The active compounds, hesperidin, apigenin, limonin, naringin, naringenin and Nobiletin causes cancer cells to die but increases the production of normal colon cells. Vitamin C is required for the maintenance of connective tissue and also for the healing of wounds. It also facilitates the absorption of iron from the intestine.
Naringenin, a flavonoid found in great concentration in grapefruit, helps repair damaged DNA in the prostate cancer cells. DNA repair is the body's best defense mechanism against cancer as it removes any cancer-causing mutations in cells.
A carotenoid phytonutrient known as Lycopene provides the rich red and pink colors to grapefruit and is said to have anti-tumor activity. Of all the carotenoids, Lycopene has the highest capacity to help fight oxygen free radicals. Another phytonutrient found in grapefruit, called Limonoids, inhibits tumor formation. It promotes the formation of glutathione-S-transferase, a detoxifying enzyme that causes a reaction in the liver which causes toxic compounds more water-soluble thus expediting their removal from the body. Liminoids help fight cancer of the mouth, lung, breast, stomach, colon, and skin. The pulp of the grapefruit has glutarates, a compound that helps prevent breast cancer.
Pectin found in the grapefruit is a soluble fiber which slows down the progression of atherosclerosis. Both red and blonde grapefruit have shown that they reduce LDL cholesterol whilst red grapefruit reduces triglycerides as well. This makes the grapefruit beneficial to those suffering from high cholesterol levels in the blood as well as in reducing strokes and heart disease.
Potassium also found in the grapefruit helps maintain blood pressure, regulates the heartbeat and counteracts the effects of sodium.
B-complex vitamins like folates, riboflavin, pyridoxine, and thiamin are also found in the fruit together with minerals like iron, calcium, copper, and phosphorus, all aiding in maintaining the healthy and normal function of the different body parts.
Lemon
The Lemon is a citrus fruit belonging to the family of Rutaceae of the genus Citrus and goes by the scientific name of Citrus limon. Lemons are said to have originated in the Himalayan foothills of North-East India and this fruit belong to the citrus group described as "hesperidium", a modified berry with a tough, leathery rind.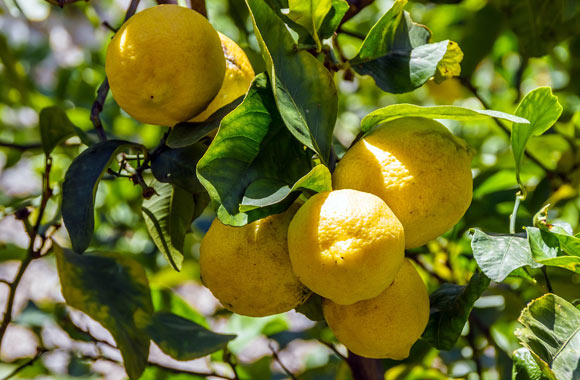 Lemons are packed with many health benefits and are perfect for a healthy heart and for weight loss, as they are low in calories, contain no saturated fats or cholesterol and are rich in dietary fiber.
The lemon helps relieve digestion problems when the juice is diluted with hot water. These conditions include heartburn, nausea, and parasites. It helps relieve the symptoms of indigestion like bloating, heartburn and belching. The regular consumption of lemon juice helps the bowel in eliminating waste as well as purifying blood and acting as a cleansing agent. It helps in curing constipation and has even aided in relieving hiccups when drunk as a juice. It helps with digestion as it helps the liver produce more bile and decrease the production of phlegm. The nitric acid contained in lemons helps to dissolve gallstones and kidney stones.
Drinking water mixed with lemon juice helps in losing weight as it cleanses the intestinal tract and allows food to pass through easily. As it contains a high amount of potassium, it helps control blood pressure and thus decreases the risk of heart attacks and strokes.
It works wonders in helping to relieve dizziness, nausea and provides relaxation to the body and mind as well as reduces mental stress and depression.
As it acts as a blood purifier, it helps to treat diseases like cholera and malaria. It also helps with respiratory problems, breathing problems and asthma as it has a high vitamin C content. As a diuretic, it helps to treat rheumatism and arthritis.
Lemon is also said to have excellent antibacterial properties and helps fight throat infections. It is also helpful in maintaining the health of teeth and bones as the vitamin C content helps in calcium metabolism.
Its vitamin P content helps strengthen blood vessels and prevent internal hemorrhaging and therefore, proves highly useful in high blood pressure management.
For those with diabetes, lemon juice mixed with water is useful in quenching the thirst and it acts as a sedative for nerves and palpitations. As a diuretic, lemon gives relief to gout and rheumatism sufferers as it helps eliminate waste products efficiently from the body.
With a plentiful supply of antioxidants and anti-carcinogenic, lemons help reduce LDL cholesterol and increase the level of HDL thus lowering the level of cholesterol and protecting the heart. It helps lower the rate of colon, prostate, and breast cancer.
A word of caution, though, it is wise to check with your physician to ensure that you have no allergy to lemons before you start to enjoy the benefits of this fruit.
Lime
Native to Southeast Asia, the lime is the most widely used fruit of the citrus family and the one of the smallest. The scientific name for the lime is Citrus Aurantifolia and is known to favor tropical climates like California, Florida, the Caribbean, and Mexico.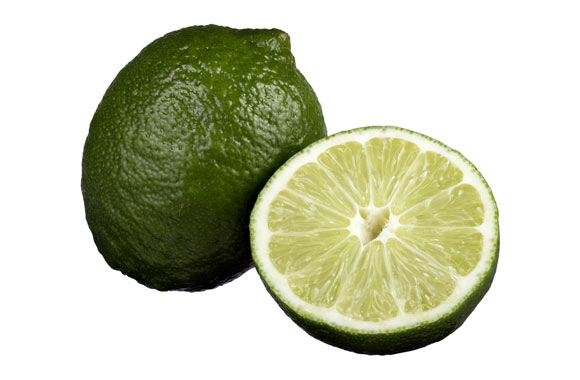 Lime is used throughout the world in foods like beverages, sorbets, pickles, jams, candies; the oil from its skin is used extensively in soft drink concentrates, body oils, cosmetics, hair products, toothpaste, soaps deodorants, disinfectants and other products.
A deficiency of Vitamin C causes frequent infections with colds and coughs, ulcers on the tongue and mouth, spongy, swollen and bleeding gums and cracked lips. For those working in mines, furnaces, painting shops, and cement factories, limes are distributed to them in an effort to help curb this deficiency and to protect them from Scurvy caused by a lack of vitamin C. The antioxidant properties of Vitamin C helps to protect eyes from age-related macular degeneration and night blindness. A lime weighing 37.5 grams provides 13 mg of vitamin C or 22 percent of the recommended daily allowance. Vitamin C is also required for the formation of collagen that is used to develop and repair skin tissue. It also helps protect against aging caused by free radicals. Vitamin C is known for maintaining the health of teeth and bones, preventing decay and loosening of teeth, dental caries, toothache, bleeding gums and fragile bones.
The acids present in limes help clear the excretory system by washing and cleaning off the tracts, and the fiber helps ease constipation. In fact, salt together with lime juice acts as an excellent purgative with no side effects.
These same acids aid in digestion as its scent floods the mouth with saliva. They then help break down macromolecules of food. The flavonoids extracted from the lime helps to stimulate the digestive system and increase the secretion of digestive juices, bile, and acids that stimulate the peristaltic movement of the bowel. The Limonoids such as Limonin Glucoside have antioxidants, anti-carcinogenic, antibiotic and detoxifying properties that help in healing peptic and oral ulcers. As lime helps in combating constipation and in the healing of ulcers, it eradicates the cause of hemorrhoids too.
50 gram serving of lime juice contains 15 calories and it is fat and sodium free but packs a flavor punch. It can be used as a marinade due to its acidic nature and this makes it ideal for helping to protect the heart. By adding lime juice to plain water, provides an instantly refreshing, calorie-free, tasty thirst quencher. A great replacement for salt as it gives enormous flavor to food.
The juice of the lime has antimicrobial properties and destroys a wide range of organisms. The citric acid in lime juice helps prevent the development of kidney stones and proves valuable in treating cystitis.
Oranges
Sweet, juicy and a perfect snack from winter through to summer make Oranges one the world's most popular fruit. Oranges are semitropical citrus fruit belonging to the Rutaceae genus and are known as Citrus sinensis.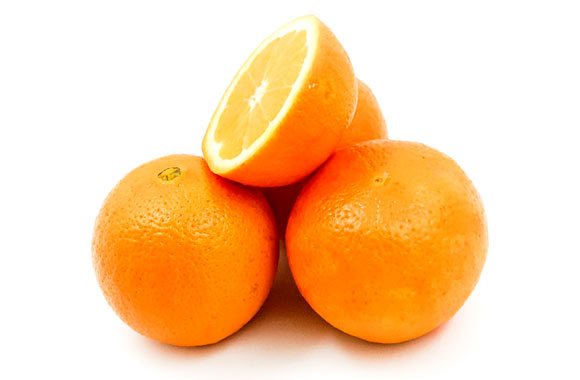 These delicious fruit are low in calories, contain no saturated fats or cholesterol but are rich in fiber called pectin. This makes them effective for those trying to lose weight. Pectin acts as a laxative, helps to protect the mucous membrane of the colon. It does this decreasing its exposure to toxic substances and by binding to cancer-causing chemicals in the colon. Pectin decreases the levels of blood cholesterols by decreasing its re-absorption in the colon by binding to bile acids in the colon.
Oranges are known for their excellent source of Vitamin C which is a natural powerful antioxidant which helps the body build resistance to infectious diseases and also scavenge pro-inflammatory free radicals in the blood. The water-soluble Vitamin C is excellent in preventing damage both inside and outside cells and as it helps prevent mutations of the cells, it makes it perfect for reducing the risks of colon cancer. The anti-inflammatory properties help reduce the severity of conditions such as rheumatoid arthritis, osteoarthritis, and asthma. Vitamin C neutralizes free radicals which oxidize cholesterol making it stick to the artery walls, eventually blocking blood flow.
They contain Hesperetin and Naringenin; flavonoids which help reduce oxidant injury to DNA. Hesperetin is known for its ability to lower high blood pressure and cholesterol as well as act as an anti-inflammatory. Most times, though, these benefits of the orange are thrown into the dustbin as these phytochemicals are found in the peel and inner white pulp of the orange.
Compounds called Limonoids have been shown to help fight cancers of the mouth, skin, breast, lungs, colon, and stomach. Limonoid compounds called Limonins found in oranges are found in oranges and are easily absorbed by the body.
A single orange provides 12.5% of the daily recommended intake of dietary fiber which has been shown to reduce high cholesterol levels and preventing atherosclerosis. For those who suffer from diabetes, oranges are a perfect snack as they keep the blood sugar levels under control and the natural fruit sugar, fructose, stops the blood sugar levels from rising after eating. The fiber also may be helpful in reducing uncomfortable constipation and also for those suffering from Irritable Bowel Syndrome (IBS) or diarrhea.
The natural oils in the orange peel help keep your skin looking healthy and young. They can be used as exfoliating facial scrubs or added to the bath water to soften skin.
An amazingly delicious and healthy fruit!
Tangerine
The Tangerine is native to China and related to the orange. It is also known as Mandarin oranges in Europe and Satsuma in Japan. Like oranges, they belong to the Rutaceae family and are known as Citrus reticulata. There is a variety of Tangerines available, such as, Tangelos knew as Honeybell which is a hybrid of tangerines and oranges or grapefruits. Tangors are a cross between oranges and tangerines, Clementines and Yuzu fruit, a Japanese hybrid between C. ichangensis and oranges.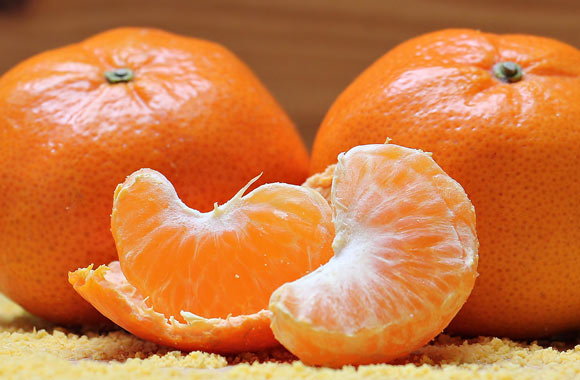 Like other citrus fruit, the tangerine is rich in vitamin C which boosts immunity by acting as an antioxidant and protecting cells from damage caused by free radicals. Vitamin C has many essential roles in collagen synthesis and wound healing, antiviral, anti-cancer activity and also reduces the risk of neurodegenerative diseases. It helps in the absorption of iron in the food by reducing the ferrous form in iron elements to ferric form in the gut. Another antioxidant, like Naringenin, Hesperetin, vitamin A, carotenes, xanthins, and lutein, are also present and is much higher than in oranges.
Tangerines contain natural soluble and insoluble fibers like hemicellulose and pectin which prevents cholesterol absorption in the gut. The fiber in the food helps smooth bowel movement as it acts as a laxative. The fiber also helps to keep one fuller for a longer time, making you feel satiated. A perfect fruit for weight management as it makes one less likely to overindulge.
The tangerine will provide you with 33 mg of bone-building calcium, 146 mg potassium which helps in nerve function and muscles contraction. 18 mg of phosphorus and 11 mg of magnesium is acquired through one fruit and both minerals are required for bone growth.
Carotenoids and flavonoids are plant-based components and function as antioxidants as well. They have 121 mcg of Lutein and Zeaxanthin which help with preventing age-related macular degeneration and cataracts. Nobiletin, a flavonoid, helps reduce cholesterol and triglycerides thus making it favorable for heart care.
Tangerine oil, found in the skin protects against deadly bacteria and is used externally to treat open wounds. It has a relaxing effect on nerves and organic systems thereby providing relief from spasms. It helps in detoxifying the body by purifying the blood and aiding in excretion of toxic substances and wastes like salt and uric acid. Tangerines help relax nerves and have a sedating effect on an allergic reaction, stress, anxiety, depression, fever, and anger.
Add this delicious fruit to your diet and satisfy your taste bud cravings and improve your health.
Related posts: