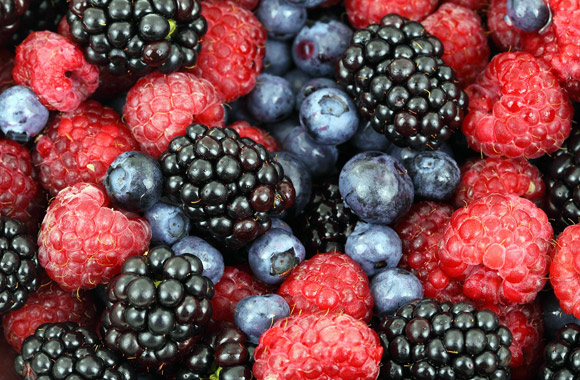 List of Berry Fruits
Blackberries | Blackcurrant | Blueberry | Cranberries | Goji | Gooseberry | Grapes | Kiwi | Raspberries | Redcurrants | Strawberries | Tomatillos | Tomato | Yumberries | Eggplants | Acai Berry
---
Blackberries
Blackberries are known as "aggregate fruit" and are found on thorny bushes cultivated in temperate climates. Blackberries belong to the rose family, of the Rubus species of brambleberries or cane berries.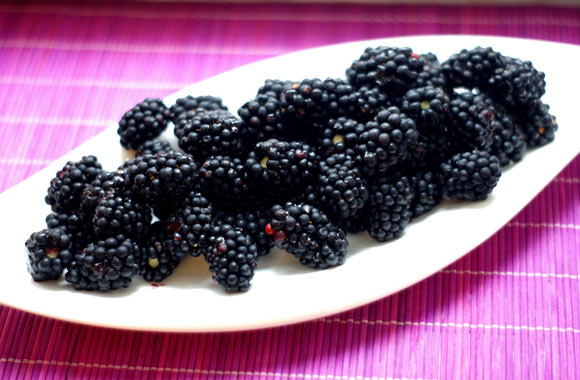 The Rubus species has a unique structure which increases the nutritional value of the fruit. Blackberries have this structure known as "aggregate fruit", which describes the many individual drupelets that blackberries are composed of. Each drupelet is like a small berry with a seed, surrounded by a firm core called the receptacle. Each drupelet contributes extra skin, seeds, and pectin thereby making the blackberry one of the fruits with the highest fiber content.
The blackberry is known as the "cabernet" of berries for their earthy, wine-like taste but more importantly, these berries are packed with multiple macro-nutrients – dietary fiber, carbohydrates and polyunsaturated fats and proteins and high micronutrients levels – vitamins, antioxidants, and minerals.
These juicy fruits are one of the top ten foods containing antioxidants and polyphenols which help in preventing cancer and heart disease. Anthocyanins, an antioxidant that gives the blackberry its color helps reduce the risk of hypertension and aids in memory retention. It is also known to help maintain urinary tract health. Some studies have shown that blackberries may protect against oesophageal cancer which is caused by gastric reflux. They also contain phytoestrogens, which is compound believed to play a pivotal role in preventing breasts and cervical cancer. Ellagic acid, another phenolic compound found in the blackberry is a potent anti-carcinogen with antiviral and anti-bacterial properties. It may even play a role in cancer prevention and tumor reversal. It is also known to protect the skin from damage from ultraviolet light and may, in fact, repair skin damaged by sunlight.
The high antioxidant content of blackberries neutralizes free radicals or unstable oxygen molecules which damage the cells and cause premature aging and some major diseases. A potent antioxidant found in blackberries has been known to inhibit cell growth and death in prostate cancer cells.
The phytochemicals which give berries their rich color have been shown to have significant disease-fighting and cell-protecting abilities. Quercetin, works as an anti-carcinogenic and an antioxidant, protecting against cancer and heart disease. Rutin, a bioflavonoid, promotes vascular health and also has anti-inflammatory and anti-allergenic properties.
Oregon blackberries are crammed with Salicylic acid which is said to have the same protective effect against heart disease as Aspirin. A 100 gram or ¾ cup serving of red berries provides about 5 milligrams of salicylic acid. They also contain the water-soluble vitamin C which also acts as a powerful antioxidant. A single cup of blackberries provides half the daily recommended allowance of vitamin C which helps protect the immune system and aids in the reduction of macular degeneration in the elderly. Vitamin C helps in healing wounds and some studies show that it may even lessen the appearance of wrinkles.
The dietary fiber in blackberries helps to maintain a healthy gastrointestinal tract which also helps in reducing blood cholesterol levels and thereby lowering the risk of heart disease. The fiber also assists with diabetes as it helps regulate simple sugar uptake thus maintaining blood sugar levels.
Almost 36 percent of the daily recommended amount of vitamin K is found in blackberries and this nutrient is used for the clotting of blood in the body and to aid in the absorption of calcium. Blackberries contribute to the building of strong bones and for hemophiliacs; it may help in the clotting process.
Naturally occurring plant estrogens or phytoestrogens contained in blackberries may help reduce the symptoms of Premenstrual Stress like food cravings and bloating or even symptoms of menopause, like hot flushes.
Blackberries are a healthy food choice loved by both adults and children as they are a great way to refuel after a rigorous workout and aid in the fight against obesity.
Blackcurrant
The blackcurrant is the edible berry of a shrub which originated in Tibet and its scientific name is Ribes Nigrum meaning "black ribes". They are highly prized for their therapeutic value and high vitamin content. In the 18th century, the abbot Bailley de Montaran from a monastery in Dijon considered the currant as being an elixir of youth.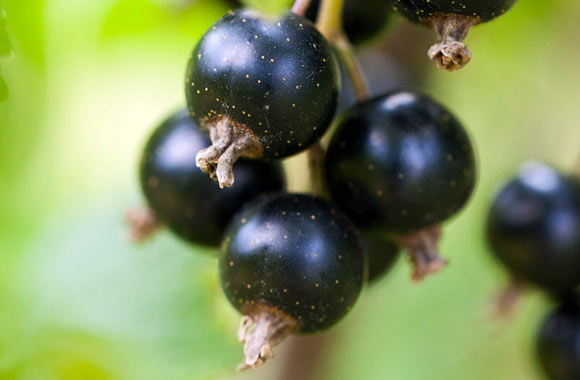 The blackcurrant is rich in antioxidants, phytonutrients, vitamins, minerals and fatty acids. They are renowned for their high content of vitamin C, a powerful antioxidant, Gamma-Linoleic Acid, a rare Omega-6 essential fatty acid, and potassium. In fact, black currants have four times the vitamin C of oranges, twice the amount of potassium in bananas and twice the antioxidants of blueberries. Power packed fruit, indeed!
The potent antioxidant, Anthocyanins, inhibits the enzymes Cyclo-oxygenase 1 and 2, reduces inflammation and the effects of arthritis in the body. It is said to have a similar effect as Aspirin or Ibuprofen thus, the elderly can safely drink blackcurrant juice instead of taking medication to counteract the pain and inflammation of arthritis.
The juice of blackcurrants contains cassis polysaccharides was found to consist of mannose, galactose, xylose and rhamnose, arabinose and glucose, all of which form a substance proven to be toxic to tumor cells. Further studies are being carried out to establish the anti-carcinogenic properties of the blackcurrant.
With its rich source of vitamin C, black currants are useful in treating cardiac and vascular problems and helps in reducing arterial hypertension. Weak circulation due to menopause is intensified and the blood is cleansed of toxins and waste.
GLA – Gamma Linoleic Acid, an essential fatty acid has anti-inflammatory effects and is known to protect against several diseases and has shown to slow down cancer cell growth in laboratory conditions. In fact, it is one of the few fruits that produce this rare fatty acid. Seeing as the human body does not produce GLA on its own and it is an essential fatty acid, black currants are a good source of this rare nutrient.
It is said to stimulate the digestion and function of the liver, pancreas, and kidneys which proves beneficial against rheumatism, arthritis, and gout. Its high potassium levels help in balancing the electrolytes lost during severe bouts of diarrhea or dysentery. It is also beneficial to those suffering from oliguria due to its diuretic properties.
As a systemic anti-inflammatory agent, and effects similar to those of natural cortisone, it is recommended in cutaneous, acute and chronic allergies, bronchial asthma, allergic rhinitis and diabetic retinopathy.
A mixture made from the blackcurrant fruit is used to treat abscesses, dermatosis, eczemas, and insect stings, while a mixture made from the buds are used in urticaria.
The British blackcurrant has been found to contain antioxidants which aid in the prevention of dementia and studies are being conducted to formulate treatments for Alzheimer's disease.
The blackcurrant is, therefore, a good diuretic, anti-sclerotic, anti-colitic, anti-diarrhetic, anti-astringent, anti-rheumatic and hypotensive.
Blueberry
The Blueberry is one of the few fruits native to North America and has been enjoyed for centuries by the Native Americans. Over time, Blueberries have become popular all over the world and feature in cuisines from Asia to the Mediterranean.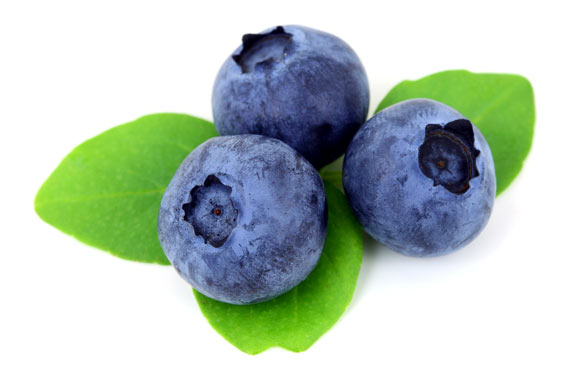 Research has shown that blueberries with their high level of antioxidants have potential benefits for the nervous system and for brain health. In fact, there is new evidence that blueberries can improve memory and for slowing down the onset of other cognitive aging problems.
Blueberries also belong to the Low GI group and this has a favorable impact on blood sugar regulation in people diagnosed with type 2 diabetes. These berries also contain chlorogenic acid, which helps lower blood sugar levels and controls blood glucose levels in type 2 diabetes mellitus.
Blueberries are packed with Phytonutrients that function as antioxidants and anti-inflammatory compounds in the body. Blueberries with their myriad phytonutrients provide protection and support to every body system.
Antioxidants have been shown to protect the nervous system from oxidative stress, especially in older adults who are at a risk for neurodegenerative diseases as well as obese adults. The antioxidants have also demonstrated their protection f the digestive tract, helping by reducing the risk of colon cancer.
These antioxidants have also shown to improve blood fat balances including the raising of HDL cholesterol and lowering triglycerides. They also protect against Atherosclerosis by protecting the blood vessel structure. In individuals who suffered from high blood pressure, blueberries have shown to reduce systolic and diastolic blood pressure and maintain healthy blood too.
The retina of the eye is at a high risk of oxidative stress and blueberries with a high level of Anthocyanins help protect the retina from unwanted damage and the damage caused by sunlight.
Studies carried out on cancer and the effect of blueberries is looking very positive, especially for breast cancer and cancers of the small intestine. They have cancer-fighting and preventing compounds called Ellagic acid and Pterostilbene, a remedy for colon and liver cancer.
These berries also contain small amount so potassium which aids in regulating body fluid and thereby controlling heart rate and blood pressure. Manganese is found in these little wonder berries and is used by the body as a co-factor for the antioxidant enzyme, superoxide dismutase. Copper and iron are found in the fruit and these assist with red blood cell formation and production.
The small amounts of vitamins C, A, and E, altogether form potent lipid-soluble antioxidant and limit free radical injury to the body.
Blueberries are surprising beneficial with urinary tract infections as it inhibits the growth of bacteria such as b-coli that causes these infections. The compound, that aids with this, has so far only been found in Blueberries and Cranberries.
Blueberries contain a special group of antioxidants called Carotenoids (Lutein, Zeaxanthin), Flavonoids (Rutin, Quercetin) and vitamins C, E, and A, selenium, zinc, and phosphorus that all work to protect the retina of the eye and prevent age-related ocular problems. For those who wear spectacles, contact lenses or suffer from problems such as macular degeneration, cataracts, myopia and dryness and infections of the eye, try adding blueberries to your diet.
These berries also contain roughage which helps to keep constipation away and the vitamins, sodium, sulfur, copper, fructose, and acids all aid digestion.
Blueberries keep you active, fresh, fit and enhance your mood as they are excellent as an anti-depressant, so why not try these little natural wonders instead of succumbing to drugs.
Cranberries
A native American and part of the blueberry family, cranberries are grown in bogs and float during harvesting. These tiny, red berries have been lauded for their health-promoting properties. They rank high on the list as being one of the fruits that contain antioxidants.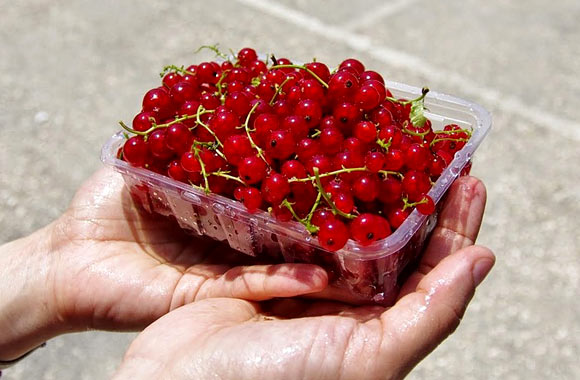 The Native Americans used the cranberry to treat urinary tract infections and recent medical research has proved that this was not merely folklore.
Cranberries or bounce berries are they are sometimes called contain no cholesterol, hardly any fat and are exceptionally low in sodium. They also have an abundance of dietary fiber and vitamins and minerals and phytochemicals that are all beneficial to human health.
These tiny red berries contain PACs or proanthocyanidins which stop the E-coli bacteria from adhering to the urinary tract and thus slow down their reproduction process which is required for infection. Although other plants produce proanthocyanidins, they are structurally different from those found in the cranberry which explains why the cranberry is so unique.
The adhesion of the different types of bacteria may be affected as well, for example, those that cause stomach ulcers and periodontal disease may be susceptible to cranberries too. This would have far-reaching positive benefits as the number of infections can be reduced and the use of antibiotics curtailed. The Helicobacter pylori bacteria causes peptic ulcers but cranberry juices, high molecular weight non-dialysable helps by neutralizing stomach acid in the mucosal lining of the stomach and duodenum.
Antioxidants have been recognized as disease fighters and cranberries contain more antioxidant phenols than 19 other commonly eaten fruit. Antioxidants play a major role in helping to prevent heart disease and certain cancers.
Antioxidants are able to stabilize free radicals by donating an electron without becoming free radicals themselves. The human body, when under severe stress, loses its inability to produce antioxidants. Cranberries are a perfect source to supplement antioxidants.
It was found that cranberry juice contains a unique component that has the ability to reverse and inhibit the growth of oral bacteria which causes dental plaque and periodontal disease.
The many flavonoids in cranberries act as potent antioxidants which help in reducing the risk of Atherosclerosis. These flavonoids and polyphenolic compounds help protect against chronic age-related diseases like memory loss and loss of coordination.
An increase in the consumption of cranberries shows significant impact on breast cancer cells. Studies are still underway to find further benefits relating to the cancer development in humans and the effect of cranberries to help inhibit and prevent cell formation and growth.
Cranberries have a special combination of five separate antioxidants and also a combination of resveratrol, piceatannol, and pterostilbene which when consumed together provide maximum antioxidant benefits. It is this unique aspect of cranberries that makes them a powerhouse berry that supports many bodily systems.
Most of the research carried out has shown that the benefits of cranberries, extends to middle-aged women and men but the as yet no findings have been made with regards to children.
Cranberries may be more than just a new addition to the Thanksgiving recipe as it does give us a lot more to celebrate about.
Goji
Goji or wolfberries are known scientifically as Lycium barbarum and belong to the Solanaceae or nightshade family. They are native to the Himalayan Mountains of Tibet and Mongolia. They have been used for centuries in Tibetian and Chinese medicine and cuisine, in the hope that it would aid in longevity.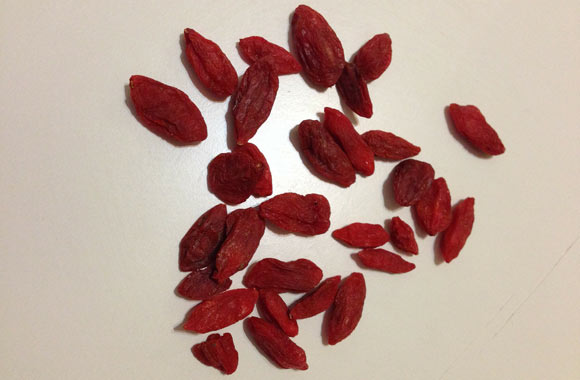 Like other berries, the goji berry is packed full of powerful antioxidants which slow down the aging process by fighting the free radicals that damage or destroy cells. Carotenoids like zeaxanthin found in figs help decrease the risk of age-related macular degeneration which is the leading cause of blindness and vision loss in the elderly. Zeaxanthin protects the retina by absorbing blue light and acts as an antioxidant. Other antioxidants like beta-carotene have shown in research to prevent cancer cell growth, reduce blood glucose and cholesterol levels. Vitamin A is found in Goji berries and acts as an antioxidant which is said to have anti-aging benefits and also help strengthen the immune function, protect vision and help prevent heart disease.
The well-known anti-cancer agents, Selenium, and Germanium are found in the berries making them a potent, natural cancer fighter. Beta-Sitosterol, an anti-inflammatory agent contained in the fruit has been shown to lower cholesterol and has been used in treating prostate enlargement and impotence. Betaine which produces Choline in the liver is known to protect DNA, help with detoxification in the liver, protect against fatty liver disease and enhance memory. Cyperone, also found in the fruit is used in the treatment of cervical cancer and are known to help with menstrual problems. Solavetivone is an antibacterial and antifungal agent contained in the fruit too. Physalin is known to boost the immune system and has been found effective in treating leukemia, hepatitis B, and cancer.
The fruit has no saturated or trans fats and no cholesterol. Goji berries provide 38 grams of fiber per 1000 calories, which well above the recommended daily allowance. Fiber helps in reduce colon cancer risk by binding with the chemicals that cause it. For those with bowel disease or constipation, the fiber helps in bulking up food which allows it to pass through the intestine quickly and softens the feces reducing the risk of hemorrhoids developing. Fiber is also helpful in weight loss as it makes one feel fuller for longer and dispels cravings and hunger pangs.
Some studies have found that the juice of the goji berry is beneficial in mental well-being, athletic performance, and general good health.
For those on the blood thinning medication, Warfarin, it is best to steer clear of the berries and those suffering from diabetes and blood pressure should check with their physicians before consuming them. The berries are also known to affect those with pollen allergies; however, if eaten in moderation, it appears to be safe.
Gooseberry
The gooseberry gets its name from the old English word for berries, "grosser". The gooseberry is native to Europe and North America but the cultivation of gooseberries began in Europe but they can be found all over the world. There are two types of gooseberries, the European and American which are further divided into 2 varieties each. The Clark and Fredonia are of the European type are larger and more flavourful than the Pixwell and Welcome which are of the American type.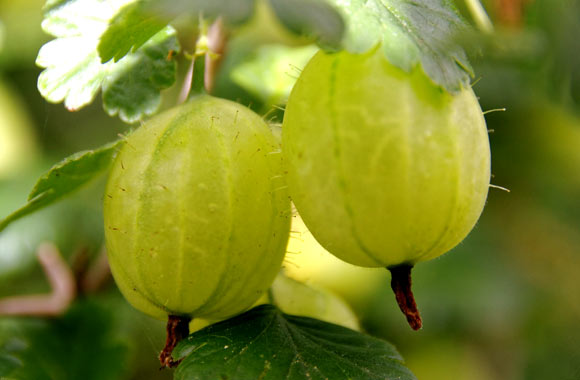 Rich in Vitamin C, one cup of fresh gooseberries contains 41.5 mg of vitamin C. Vitamin C is required by the body for iron absorption and in collagen formation. Vitamin C also helps maintain healthy bones, muscles, cartilage, and blood vessels, and wards off infection and prevents illness. Vitamin C is also influential in protecting cells against damage from free radicals which a cause of cancer and the aging process.
Gooseberries add 66 calories to the diet, whilst offering no fat, no cholesterol, and very little sodium. A single cup of gooseberries contains 25 percent of the recommended dietary allowance of fiber required. Fiber expands in the stomach giving a sense of being sated and thus helping to avoid hunger pangs and cravings. 100 grams of berries provide 44 calories making it an ideal food for a weight loss diet. Fiber helps relieve and prevent constipation.
Gooseberries have high potassium content and provide 10 percent of the daily recommended allowance. Potassium promotes a regular heartbeat, maintains the balance of water in the cell and tissues and offers protection against blood pressure. It also helps in the function of the nervous and muscular systems and is critical for the normal function of nerve cells, muscles and heart.
The Vitamin A content of gooseberries is small but this vitamin is instrumental in maintaining mucous membranes and skin as well as vision. Vitamin A has also been found to protect the lungs and oral cavity from cancers.
These berries contain bioflavonoids, collectively found under the name Vitamin P and many have antioxidant properties. These compounds help in to protect against cancer and bioflavonoids help maintain the permeability of capillaries, allowing nutrients to pass through blood vessels freely.
Fresh berries also contain small amounts of essential vitamins like Pantothenic acid, Folates, Thiamine, and Pyridoxine. These vitamins help the body in metabolism and need to be replenished via external sources. Gooseberries also contain small but adequate levels of mineral like copper, calcium, phosphorus, manganese, magnesium, and potassium.
All in all, the gooseberries are a good supply of vitamins, minerals, nutrients, and fiber, making them healthy and a great fruit to eat.
Grapes
Grapes have been around since prehistoric times and are native to Europe and the Mediterranean and were first cultivated in Asia as early as 5000BC. They are known as the "queen of fruit" and have been mentioned in the Bible as "fruit of the vine."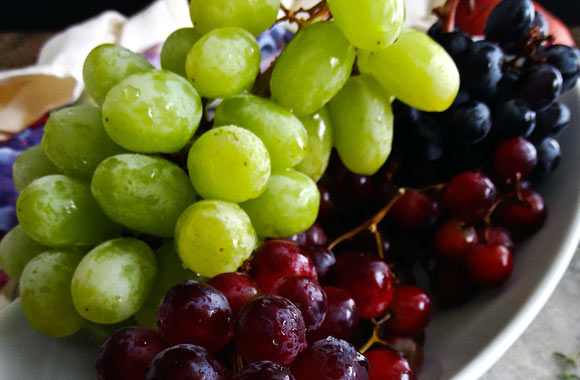 Grapes are a storehouse of polyphenols phytochemicals which help fight cancer, heart and stroke disease, age-related macular degeneration and have many other health benefits.
Resveratrol is a polyphenol phytochemical compound that has been found to have a protective function against degenerative nerve disease, cancer of the colon and prostate, coronary heart disease, Alzheimer's disease and viral and fungal infections. The risk of stroke is reduced as resveratrol produces nitric acid which causes relaxation of the blood vessels. It also helps reduce the activity of angiotensin, a hormone which causes blood vessel constriction which elevates blood pressure. Resveratrol has a positive effect on genes which impact the aging process by activating the enzymes which allow DNA to be stable within cells and increasing the lifespan. It also helps oxidize cholesterol which accumulates in the arteries and repairs damage to them as well. This helps reduce cholesterol in the blood as well as reduce stroke and heart disease.
Saponins are found in the skin of the grape, bind to cholesterol which makes absorption into the body difficult and thus aids in preventing strokes and heart disease. Alpha-tocopherol, another antioxidant, is absorbed into the body and helps in the prevention of cancers, heart disease, and strokes. Anthocyanins are another polyphenolic antioxidant found in grapes which have anti-allergic, anti-inflammatory, antimicrobial and anti-cancer properties.
Grapes are effective in combating constipation as they contain organic acid, sugar, and cellulose which bulks up food and allows for rapid passage through the intestine. They also help tone up the intestine and stomach. They help with dyspepsia by reducing heat, indigestion, and irritation of the stomach.
As a low GI food, grape consumption leads to better blood sugar balance, insulin regulation and increased insulin sensitivity.
White grapes help replenish iron in the body which helps to prevent fatigue as it has simple sugars, it provides instant energy. Together with Vitamin C and the other antioxidants present, the immune system is also given a boost.
Grapes help reduce the acidity of uric acid and also aids in the elimination of the acid from the body, thus, reducing the work done by the kidneys. This also helps those suffering from gout as uric acid build up in the joints is the cause.
Red grapes have strong antibacterial and antiviral properties which help protect against infections. Their antiviral properties protect against polio and herpes simplex viruses.
Dried grapes or raisins are packed with nutritious benefits and helps with acidosis, anemia, fever, sexual weakness and helps in gaining weight as well as improving vision.
The best thirst quencher, it helps in the treatment of asthmas as it helps increase moisture in the lungs.
A delicious fruit packed with Vitamins A, C, B6, and folate as well as essential minerals like calcium, potassium, iron, magnesium, phosphorus, and selenium, they add to a robust and healthy body.
Kiwi
The Kiwifruit or Chinese Gooseberries are native to China where they were originally called Yang Tao. It has been called the Kiwi after the national bird of New Zealand as it has a brown, fuzzy coat much like the bird. Their botanic name is Actinidia deliciosa and is recognized as the national fruit of China.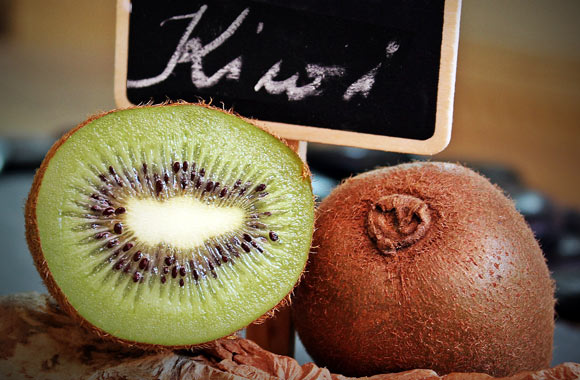 The Kiwi contains a number of antioxidants and these phytonutrients are said to protect DNA in the nucleus of the human cell. Studies have, yet, not been able to pinpoint which of these antioxidants are responsible for this but they are positive that the healing properties are not limited to the vast number of flavonoids, carotenoids, beta-carotene or Vitamin C found in the fruit.
Vitamin C, a water-soluble antioxidant plays a major role in neutralizing free radicals that cause damage to cells that in turn lead to cancer and inflammation. The intake of vitamin C has shown to help reduce the severity of conditions like osteoarthritis rheumatoid arthritis and asthma. It also helps in preventing conditions like colon cancer, atherosclerosis, and diabetic heart disease. Vitamin C also strengthens the immune system, aids in the development of collagen and protects against respiratory systems associated with asthma.
Antioxidant vitamins A, C, and E plus carotenoids prevent the development of age-related macular degeneration and other disease associated with vision.
The high fiber content of the Kiwi helps control sugar levels, thus being ideal for those with diabetes. The fiber also binds with the cancer-causing chemicals in the colon and then expelling them, thus, helping to prevent the formation of the disease. Fibre also has been proven to reduce the cholesterol levels, which helps those with heart disease and/or prone to high blood pressure. This helps in reducing the risk of heart attacks and strokes.
Folic acid is important for expectant mothers and that suffering from anemia and the kiwi provides 10 percent of the daily-recommended allowance. It provides 10 percent of the daily-required allowance of Vitamin E that is instrumental in decreasing the risk of heart disease.
The kiwi is a powerhouse of Calcium, which helps build strong teeth and bones, Chromium, which aids in maintaining a regular heartbeat, Copper, Magnesium, which is known to enhance energy levels, Potassium, Iron and Zinc, which helps in keeping hair, skin, and nails healthy.
The kiwi also has alpha-linolenic acid, an omega-3 fatty acid that cannot be produced by the human body and must be acquired through food consumption. Alpha-linolenic acid is related to a lower risk of cardiovascular disease. The kiwi is said to have the same effect as Aspirin regarding the clotting of blood but without the side effect and is beneficial to heart health.
It helps fight male impotence as it contains Arginine which is known as a vasodilator.
The kiwi -not just a pretty fruit but is also a powerhouse of nutritional benefits.
Raspberries
A member of the bramble and rose family, raspberries are known as "aggregate fruit" as they as a number of smaller, seed-containing fruit combining together to form a single fruit called drupelets.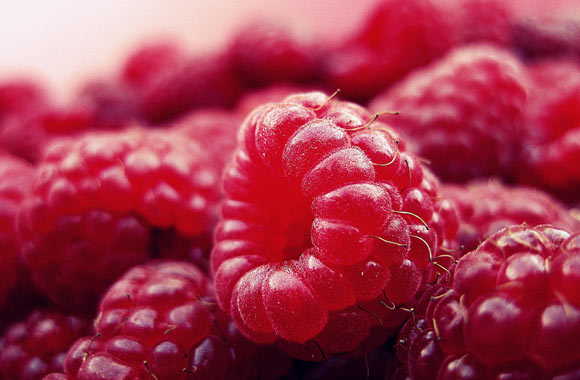 The most common type of raspberries or Rubus idaeus is pink in color but raspberries can be found in different colors like black, purple, orange, yellow and white. Boysenberries and loganberries are hybrids of the raspberries.
Red raspberries are a store of Ellagic acid which belongs to the family of phytonutrients called tannins. These antioxidants help in preventing damage to cell membranes and other structures by neutralizing free radicals. Other flavonoids contained in raspberries, Quercetin, Kaempferol and cyanidin-3-glucosyl and cyanidin-3-rutinoside. These flavonoids, classified as anthocyanins are of the group which gives the berries their red color. These anthocyanins also have some antimicrobial properties which prevent overgrowth of fungi and bacteria in the body, for example, yeast Candida albicans, a bacteria which causes vaginal infections and can lead to irritable bowel syndrome. The antioxidants have also been found to prevent cancer cells from growing and also inhibit the formation of tumors in different parts of the body.
Raspberries have more than 3 times the amount of antioxidants than kiwi fruit and about 50 percent higher than strawberries and ten times more than tomatoes. Anthocyanins constitute about 25 percent of the total antioxidant capacity with Vitamin C making up another 20 percent. Vitamin C helps the body develop resistance against infectious agents and it counters inflammation.
One hundred grams of raspberries provide 52 calories and 6.5 grams of fiber and are exceptionally low in saturated fat but rich in dietary fiber. Dietary fiber aids by maintaining the many functions of the gastrointestinal system. They also act as stimulants and antispasmodics. Their natural high sugar content does not make them ideal diet fruit but their low sodium does make them a healthier alternative to junk foods. Xylitol contains 9.6 calories and is a substitute for sugar which provides 15 calories. Xylitol is extracted from raspberries and is known as a sugar substitute as it is absorbed more slowly than sugar and does not contribute to high blood sugar, thus being helpful to those with diabetes.
Polyphenol antioxidants such as Lutein, Zeaxanthin, and beta-carotene are found in small amounts and help prevent aging and various diseases processes as they protect against oxygen-derived free radicals and reactive oxygen species (ROS). Vitamins A and E also play an important part in the same way.
Raspberries also contain B-complex vitamins which help the body metabolize carbohydrates, proteins, and fats.
All in all this fruit makes for a tasty addition to your diet and also a great boost to your health.
Redcurrants
Ribes rubrum of the Saxifragaceae family is a bright, glossy currant when ripe. They are tart and usually made into jellies, wines, sauces or garnishes to be eaten.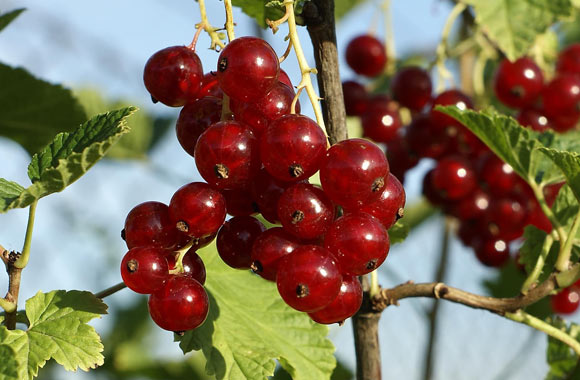 These berries are fat-free, low-calorie and chockfull of vitamin C which makes them nutritious and versatile.
A 56 gram serving of redcurrants has only 30 calories, 8 grams of carbohydrates which are broken down into 4 grams of sugar and 2 grams of dietary fiber. It also has 1 gram of protein. This makes redcurrants a healthy alternative to add to a weight loss diet. Fiber helps controls appetite as it makes one feel full for longer. The fiber helps regulate bowel movement and assists in digestion whilst treating constipation and other digestive problems. Having fiber in the diet also means keeping the cholesterol level healthy thus reducing the risk of heart disease and strokes.
A single cup of redcurrants provide 15 mg of magnesium and the daily recommended allowance is between 310 to 420 mg per day. Magnesium is important as it plays a role in heart function and nerve and muscle function too. It also protects the bones and regulates blood sugar and blood pressure and protects the immune system.
Potassium regulates blood pressure which keeps the heart healthy and aids digestion and is crucial for muscle and bone contraction. A potassium deficiency causes muscle cramps, weakness, and irregular heartbeat.
Vitamin C is an antioxidant and found in abundance in redcurrants. A daily allowance for women is 75 mg and for men 90mg. Redcurrants offer 46mg of vitamin C per cup. Vitamin C helps build and protect the immune system. It produces collagen which helps in keeping skin healthy and helps in the process of wound healing. As an antioxidant, vitamin C fights against free radical damage to cells and thus is very potent in assisting with fighting cancer and heart disease.
The redcurrant is said to act as a tonic for the appetite and if eaten after a meal is said to help the digestive process and is useful in gastric disorders. They are also used as a diuretic as it helps in the elimination of uric acid and this is helpful for those suffering from conditions like gout, gravel, and rheumatic disease.
They also act as a laxative with the high fiber content, good for remineralization and also helps destroy bacteria.
Strawberries
Strawberries have the common scientific name of Fragaria, Fragaria Vesca for wild strawberries and Fragaria Orientalis for Eastern strawberries are found and enjoyed all over the world. These fruits are not just good looking and tasty but they are jam-packed with natural health benefits.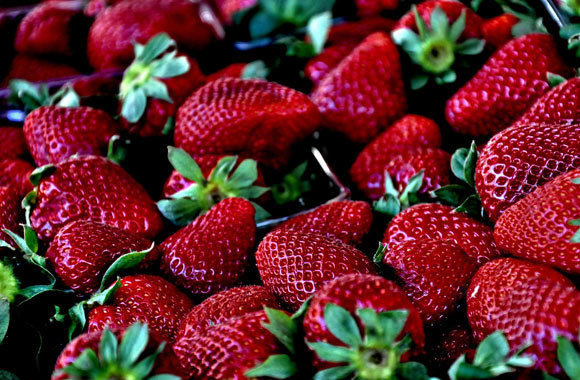 Free radicals and deficiencies of certain nutrients and minerals cause eye problems, especially in older persons. Macular degeneration is prevented by the flavonoids, phenol phytochemicals, and Ellagic acid. The potassium in strawberries helps in maintaining the correct pressure in the eye which helps in controlling ocular pressure which if elevated can lead to blindness.
Studies have found that strawberries help decrease the risk of type 2 diabetes when added to the diet at least once or twice a week. Ellagitannin, an antioxidant, is said to help in regulating blood sugar levels as they inhibit the activity of an enzyme called alpha-amylase. The enzyme breaks amylase starches into simple sugars and therefore when the enzyme is reduced the amount of sugar released into the bloodstream is decreased.
Vitamin C in strawberries boost immunity and a serving provides 5.15 mg which is about half the daily required amount. Vitamin C helps with cancer preventions together with the phytochemical Ellagic acid suppresses cancer cell growth. The Lutein and Zeathancins are scavengers of free radicals and neutralize the negative effects.
Ellagic acid and flavonoids help the heart in many ways. This help to prevent bad cholesterol cause the build-up of plaque in the arteries and as they reduce the oxidative damage to cells, they protect the heart and play a role in diabetes control too.
Potassium in strawberries helps regulate blood pressure and acts as a buffer to the negative effects of sodium. The phytochemicals in the berries also help in reducing inflammation of the joints and can be helpful for those suffering from arthritis and gout.
A lack of fiber is the cause of constipation and inflammation of the intestines or Diverticulitis. The fiber found in strawberries helps with digestion and bulks up the feces which help with relieving constipation. Fiber helps to slow down the absorption of sugars in the blood and is, therefore, assisting in managing diabetes.
Vitamin C in strawberries plays a vital role in the production of collagen which in turn improves the skin's elasticity and resilience. Skin appears healthier and younger looking. Wrinkles are kept at bay by vitamin C and Ellagic acid.
Folate, which is recommended for women who are pregnant or trying to conceive and strawberries are a good source as they provide 21 mcg per serving. Folate is needed for the development of the baby's brain, skull, and spinal cord and is also said to help prevent spina bifida.
Tomatillos
Little tomatoes or Tomatillos are a cousin, although distant, to the tomato and to the Cape Gooseberry. A native of Mexico and an integral part of Mexican cuisine is a tangy citrus fruit and is also known as husk tomato, jamberry, husk cherry, tomato verde, miltomate and Mexican tomato. The scientific name is Physalis philadelphica (Physalis ixocarpa).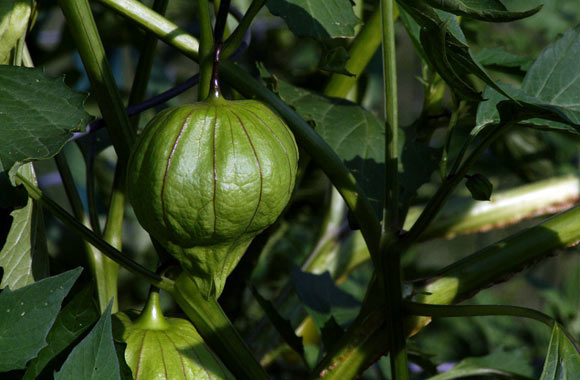 100 grams of Tomatillos will provide only 32 calories, and contain slightly more calories, fat, and protein than tomatoes. They are devoid of sugars, low in salt, cholesterol-free and high in fiber. This makes them ideal for those on a diet to maintain a healthy weight. A cup of tomatillos provides 2.5 grams of dietary fiber and it has been found that fiber binds with fats, promoting excretion and benefitting the gallbladder. Fibre also facilitates regular waste elimination and improves digestion of carbohydrates by slowing down their absorption into the small intestine and the bloodstream. This helps in lowering blood sugar fluctuations common to diabetics.
Tomatillos are rich in antioxidants and research has found that ixocarpa lactone has anticancer properties which fight colon cancer and also prevents the development of hepatoma cells.
A single serving of 1 cup of tomatillos provides 354 mg or 10 percent of the daily required amount of potassium which supports the production of contractions in the heart, intestines, and skeletal muscles. It helps in regulating the amount of fluid in the bloodstream and urinary tract which helps to keep blood pressure stable and remove toxins. A high intake of potassium is associated with a decreased risk for stroke and osteoporosis.
1 cup of chopped tomatillos provides 15.4 mg of Vitamin C which is 26 percent of the 60mg daily requirement. Vitamin C aids the repair of organs, blood vessels, and the skin. Vitamin C promotes white blood cell production. It is integral to a strong immune system and helps stave off colds and flu.
Each serving of tomatillos has 15 percent of the daily required intake of Vitamin A and is necessary for the maintenance of teeth, mucous membranes, and skin. Vitamin A also protects the cornea of the eye, benefits night vision and helps keep the eye moist.
One-half cup of chopped tomatillos contains 0.1 mg of manganese which together with Vitamin C is involved the production of collagen and also acts as an antioxidant as part of the enzyme superoxide dismutase.
Niacin, a B vitamin, helps derive energy from the food we consume and tomatillos provide 1.2 mg per one-half cup. The recommended daily allowance of niacin for adult women is 14 mg and 16 mg for men.
Tomato
We never give the tomato a second thought as we slice and dice them for salads, sandwiches or to add to sauces for pasta. This native South American Wonder fruit is jam-packed with health benefits. They belong to the deadly nightshade family.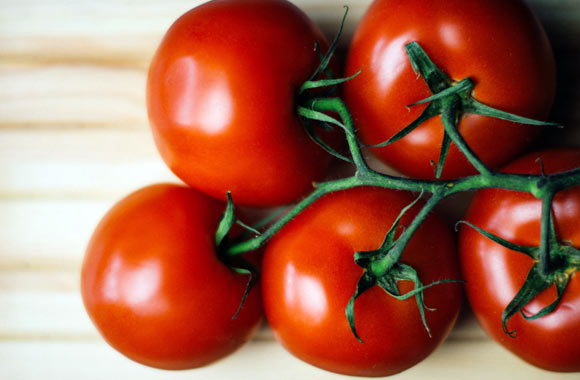 Tomatoes contain Lycopene, the compound that gives them their bright red color acts as an antioxidant which neutralizes free radicals that damage cells in the body. In fact, recent studies show that Lycopene has twice the effect of beta-carotene. Further evidence from studies indicates that men, who ate 10 servings of tomatoes a week, reduced their risk of developing prostate cancer by 45 percent. Other research has shown that consuming more than 7 servings of raw tomatoes, lowers the risk of developing colon and rectal cancer by 60 percent and also the Lycopene does inhibit the growth of lung, breast, and endometrial cancer cells.
Lycopene prevents serum lipid oxidation thus providing protection against cardiovascular diseases. Regular consumption of tomatoes has also shown to lower cholesterol (LDL) and triglycerides in the blood. These lipids are known as the causes of cardiovascular disease and atherosclerosis.
This fruit is a treasure house of vitamin C which is known to prevent Scurvy. It has been indicated that people who bruise easily should include tomatoes in their diet. Vitamin C acts as an antioxidant and helps in preventing common colds and degenerative diseases. It acts as an anti-inflammatory and helps to reduce the development of asthma. A study has shown that children who ate tomatoes experienced less wheezing.
Vitamin A is an important factor for immune functions, maintenance of the skin, vision and tissue lining. Potassium is also important in the growth and is important for the healthy maintenance of the body, especially in osmotic processes in cells. A deficiency could lead to apathy, cramps and muscle weakness. Folic acid together with vitamin C and beta-carotene help to lower homocysteine levels. All of these compounds are found in the tomato.
Vitamin K is essential in the controlling of bleeding and the process of blood clotting and is found in tomatoes. Coumaric acid and chlorogenic acid help fight nitrosamines which are the main carcinogens found in cigarette smoke. These are also found in tomatoes.
So, the next time you slice up or dice up a tomato, remember that the health benefits of this fruit, almost always taken for granted, is life-saving.
Yumberries
Yangmei or yumberries have been grown in China for centuries and taste like a cross between a pomegranate and cranberries. It is known as one of the"Superfruit" a term coined to describe a group of fruits which are rich in antioxidants and nutrients.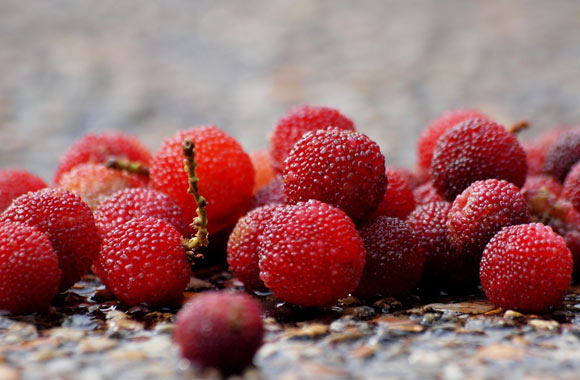 ORAC is the acronym used for oxygen radical absorbance capacity, an index used to rate the antioxidant capacity of super fruits. The measurement is for the fruits ability to scavenge free radicals. Free radicals affect human cells which cause premature aging and disease. Foods with a high ORAC prevent premature aging, they stop cancer cell growth and also aid in keeping cholesterol at bay.
Free radicals cause oxidation in the cells which then promotes aging and disease. The yumberry is rich in poly nutrients and antioxidants oligomeric proanthocyanidins and anthocyanidins which fight the free radicals. These poly nutrients give the fruit their bright red color. The yumberry contains OPC, or Oligomeric Proanthocyanidins, a water-soluble pigment that changes with the acidity or alkalinity of the cell juice. This naturally occurring component helps in preventing the aging process. Humans cannot produce OPC by themselves, thus it is obtained from fruit and vegetables.
OPC helps to reduce blood pressure by restricting enzyme activity and is known as the vitamin of protection on the cardiovascular system. Free radicals harden the blood vessels and oxidation of LDL causes atherosclerosis or even cerebral infarction. OPC repairs damaged cells and nurture those that are in need of care.
Free radicals erode the connective tissue of joints causing inflammation. OPC neutralizes the effects of the free radicals, nurtures and prevents further damage. OPC is thus valuable in helping with arthritis and other inflammations.
Diabetes mellitus is caused by free radical damage and erosion to the pancreas. As they destroy the normal secretions of the pancreas, insulin decreases and contributes to the forming of Diabetes mellitus. OPC helps to make the blood vessels within the pancreas strong and flexible ensuring that insulin secretion is increased and blood sugar is metabolized.
The eyes are sensitive organs and easily damaged by free radical stirred up by radiation. The high-intensity ultraviolet rays from sunlight and radiation damage caused by computer displays cause damage to the retina and destroying visual crystals. OPC's prevent oxidation of the visual crystal protein and hinder cataracts forming.
The Yumberry or yangmei fruit, also known as Chinese bayberry, Japanese bayberry, and Red Bayberry has stronger antioxidant properties than oranges, strawberries or cranberries making them the by far a SUPERFRUIT!
Eggplants
The Eggplant is a member of the nightshade family and these glossy, purple fruits originate in India where they grew wild. They belong to the Solanaceae family of the genus: Solanum. They were first cultivated by the Chinese and introduced by the Moors to Europe during the Middle Ages. The French and Italians began cultivating the vegetables in the 18th century and called it Aubergine. They are also called Brinjal and Melongene. Thomas Jefferson, a keen experimental botanist introduced the eggplant to the US in 1806.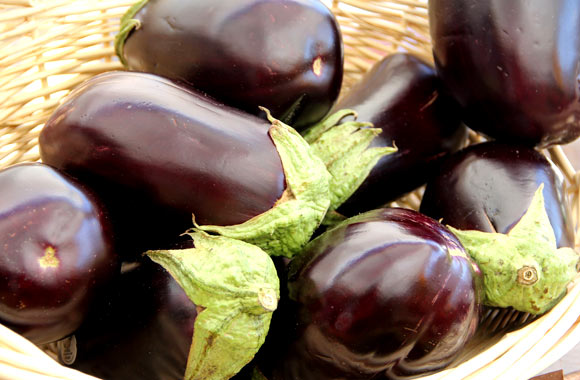 Nasunin, an anthocyanins phytonutrient found in eggplant is a potent antioxidant and free radical scavenger. It helps protect cell membranes from damage by free radicals. Nasunin was found to protect the lipids or fats in brain cell membranes. This is important as the cell membrane is composed entirely of lipids which protect the cell, allow nutrients into and waste out and receives instructions from molecules. Nasunin has antiangiogenic properties and stops cancer cells from gaining angiogenesis ability. Angiogenesis means that cancer cells are able to develop their own blood supply, allowing for cancer masses or tumors to grow rapidly. They have a high content of chlorogenic acid which is an antioxidant that offers antimicrobial and antiviral properties and also the ability to lower bad cholesterol. Nasunin promotes heart health and removes excess iron from the bloodstream as the excess iron increases free radical production causing heart problems and cancer. Chlorogenic acid also has anti-mutagenic properties that protect the cell from mutating into cancer cells. The eggplant peel contains angiogenesis inhibitors and has shown to affect the growth of some cancer cells.
The brinjal is also high in dietary fiber, about 2 grams per cup, which helps protect the colon against cancer and keeps the digestive system regular. They are low in calories, 35 grams per cup, and it contains no fat. The fiber helps in making one feel full and can replace higher calorie pasta or rice in weight loss diets. However, as it acts like a sponge and soaks up oil, it is not for the beat to sauté or fry. A high level of water is contained in the vegetable which helps in hydrating skin and hair.
Eggplant is loaded with Vitamin K which helps in the clotting of blood, manganese which aids in wound healing and bone health. Potassium in the eggplant helps to balance the sodium and hydration levels in the body. It also helps regulate the blood pressure of the body.
Being low in carbs and high in fiber, the eggplant also helps reduce glucose levels in Type 2 Diabetes, thus making it a natural method of regulating diabetes.
The eggplant has antimicrobial, antiviral, antimutagenic and anti-LDL properties making it an excellent addition to any diet as it is packed with phytonutrients, minerals, and vitamins.
Acai Berry
The acai berry has been in the news recently regarding its major health benefits for life longevity, weight loss, and anti-aging properties. There are many forms of the berry in which you can purchase to help take full advantage of these health benefits. Pronounced "Ah-Sigh-EE", this berry will give you plenty of health benefits within no time.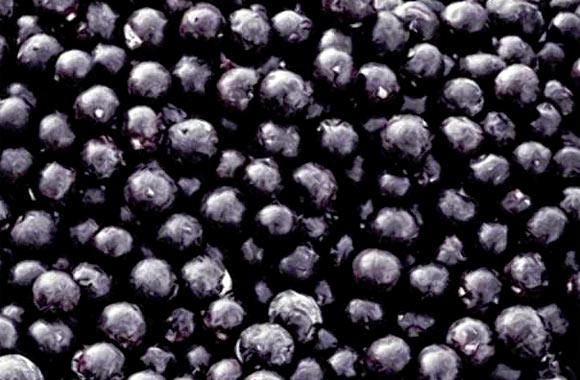 People have used the acai berry for thousands of years because of its wonderful health benefits. The fruit comes from the acai palm, which grows in the Amazon jungle and tropical forests of South and Central America. It is believed that the Amazon tribes used the acai berry for its natural healing purposes. In fact, in the Amazon, the acai berry is one of the few berries known to have medicinal properties. In the Shuar tribe, native to the Amazon rainforest, the acai berry was known to hold cures for illnesses and ailments. These medicinal healers felt that the acai berry was a natural antioxidant, energizer, immune booster, and infection fighter. In today's scientific world, researchers have taken notice of the Amazon tribe's "healers" recommendations and have found that the acai berry offers many health benefits, which include disease and illness prevention, cholesterol control, and overall energy boosts.
In the late 1990s, the acai berry was introduced into the western culture a great health benefit, promoting the antioxidant properties it has to offer from what researchers learned from the Amazon rainforest tribes. North America quickly learned how the acai berry helps us feel energetic, healthy and assists diabetics. We can find the acai berry in natural health food stores, vitamin shops, and even in ice creams, energy bars, and energy juices/shakes.
So what are the major health benefits that the acai berry has to offer? Here is a great list of everything you can gain from consuming the tasty berry:
Enhanced sexual drive
Greater energy
Life longevity
Anti-aging properties
Lower blood pressure
Prevention of cancer
Weight loss
Relief of headaches and dizziness
Promotion of healthy sleep cycles
Enhanced vision
Healthy heart
Fights arthritis pain and inflammation
Promotes healthy digestion
Reduces the signs of aging
Memory improvement
Vital vitamin enabler
Whole body detoxifier
Reduces the risk of heart disease
Natural body cleanser
Mental rehabilitator
Many celebrities, such as Oprah Winfrey, have promoted the acai berry and its antioxidant properties. It is very popular for its weight loss, energy increase, and digestion improve possibilities. According to some researchers, you can effectively fight fat by consuming the acai berry in either supplement form, as a dried berry, or in a protein juice. Although some say that the acai berry is a super-food, some beg to differ. It is highly nutritious but is not to be confused with a diet food or "quick fix". Many experts recommend that you eat a healthy diet, maintain regular exercise, and incorporate the acai berry into your diet in moderation or when possible. It is not the "ultimate fix" but it can offer you plenty of overall health benefits, slimming effects, and energy.
Related posts: