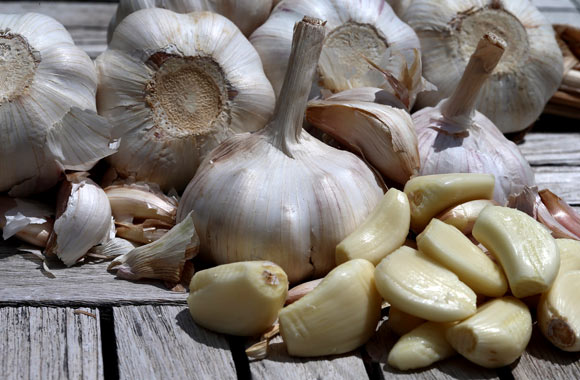 There are many ways that garlic helps the body to get rid of excess and in this article, I will tell you about the many health benefits that garlic gives the body. Garlic is considered a wonder healing drug that is surrounded with folklore.
Garlic can help to prevent the common cold and helps to build up the immune system. Garlic has a rich supply of Vitamin C in it. Vitamin C is the body's primary antioxidant defender in all water-soluble area such as the bloodstream where it protects the LDL cholesterol from oxidation. Since it is the oxidized form of LDL cholesterol that begins damage to the blood vessels walls. Garlic Vitamin B6 helps prevent heart disease by another and that is to lower the levels of homocysteine.
Garlic is good for a person with heart disease because Ajoene is in garlic and it works as a blood thinner. Many of the research has been done on garlic powder, garlic oil, or aged garlic extracts rather than garlic in the food form, but the food studies that are out there have shown that garlic has allium vegetable to have important cardioprotective properties. It is clearly able to lower our blood triglycerides and cholesterol even though this lower the cholesterol is moderate. Garlic can help lower the cholesterol, but some scientist says that it hasn't been proven yet.
Fighting off infections is another thing that garlic has going for it. This vegetable has been studied in controlling infections not only for their benefits in controlling infections by using bacteria and viruses but infections from other microbes.
If garlic is in your daily routine you will be less likely to get colon cancer or stomach cancer.
Garlic is packed with antioxidant. It is a powerful antibiotic to fight off infections because the bacteria that is in the body doesn't build up a resistance to it like it does regular antibiotics. What this means is that garlic can tear apart the bacteria that is doing harm to the body instead of the bacteria creating superbugs that can fight against the regular antibiotics. the antioxidant can help to protect the body against free radical that want to harm the body.
The medicinal properties in garlic are stronger when it is raw and crushed or very finely chopped. Raw, crushed garlic is an anti-fungal and raw, crushed garlic is a powerful antibody. You can increase the health benefits if you let the garlic sit after you chop or crush it. Cooked prepared garlic is not as powerful but still has many health benefits for the cardiovascular system. Cooked garlic cloves whole have less medicinal value, but a lot of people like the milder taste when it is cooked.
Garlic can help a person prevent iron metabolism because the diallyl sulfides in garlic can help improve production of a protein called ferroportin. Ferroportin is a protein that runs across the cell membrane and forms a passageway that allows stored iron to leave the cells and become available where it is needed in the body.
Related posts: