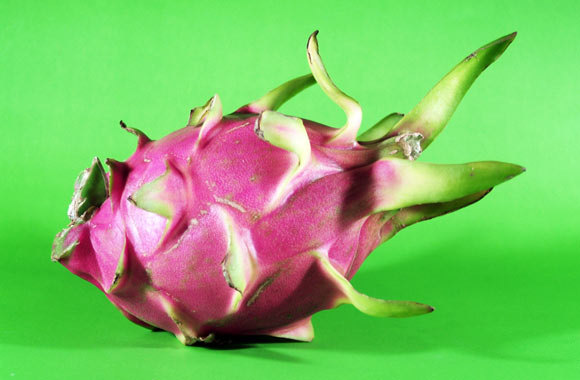 The Pitaya or Pitahaya is more commonly called Dragon fruit which has a unique oblong shape with a pink or red rind with green tipped scales. Dragon fruit originated in Central America and is said to date back to the 13th century. Today it is grown widely for commercial purposes in Asian countries like Thailand, Philippines, Malaysia, and Vietnam. In Vietnam, it is called thong loy. There are three varieties of Dragon fruit, Hylocereus with a red skin and white flesh, Hylocereus polyrhizus with a red rind and red flesh and Selinecereus megalanthus with a yellow rind and white flesh. An interesting fact about the flowers of the Dragon fruit tree is that they bloom at night and are called Moonflowers.
A good source of antioxidants, the dragon fruit helps prevent damage caused by free radicals. It contains a rich array of antioxidants that is unmatched in any food or drug. Antioxidants block free radicals which cause heart disease and cancers.
The dragon fruit is low in cholesterol, sodium and has little fat and is a boon for those with high cholesterol problems and for those who are on a weight loss program. The fats are found in the many seeds found in the fruit and as they are mono-unsaturated.
Important to both, the young and the old, dietary fiber are important in preventing constipation and irregular bowel movement. Fibre also helps in preventing colon cancer as it binds with the chemicals that cause cancer. It is also said to benefit the liver by preventing urinary tract infection. The red variety of dragon fruit has a higher fiber content than the yellow variety and the rind is also a great source of fiber too. The high protein levels boost metabolism which leads to weight reduction. It is also vital in the production of hormones, enzymes and other chemicals required in the body.
The fruit has a very high Vitamin C content which helps to heal wounds and bruises fast as well as strengthens the immune system. The dragon fruit provides more than 50 percent of the recommended daily allowance of vitamin C. Other vitamins include Thiamine or B1 which helps the body metabolize carbohydrates and generate energy, Niacin or B3 which is important for diabetic patients, Vitamin B3 which helps to moisturize the skin, Vitamin B12 which stimulates the appetite.
The fruit is also a source of phosphorus and calcium which help to reinforce bones, make teeth healthier, help in cell development and tissue formation. The high mineral content helps neutralize the effects of toxic, heavy metals like mercury, lead, and arsenic.
The consumption of dragon fruit has been linked to a reduction in the insulin usage in a patient with Type 1 diabetes whilst also reducing blood sugar levels for those with Type 2 diabetes. It is also said to be effective in helping the body in releasing uric acid which is a great help to those suffering from gout. The regular consumption of this fruit is also said to alleviate coughs and asthma in children and adults.
Related posts: