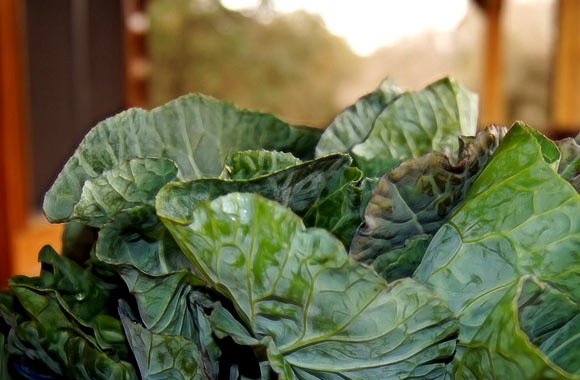 Collards green is something you find in a menu where are geared toward the Southern dishes. Collards green is a green leafy plant that is part of the "green" family and is packed with loads of disease-fighting beta-carotene. They have very few calories, in fact, in one cup of collards green, there are only fifty calories. It helps to give the stomach a full feeling with the fiber to make the person regular in the bowel movement department.
It originated in Eastern Europe and Asia Minor region. This plant grows up to three to four feet in height with dark green leaves in the form of rosette fashion around an upright, stocky, main stem. There are six types of collards green that are grown around the world depending on the soil, temperature, and climate. The six types are known as blue max, Georgia, Vates, champion, flash, and heavy crop.
Collards green is an important non-diary source of calcium that is absorbed into the system, almost just as well as the calcium from a glass of whole white milk. By strengthening the body's bones, calcium prevents the threat of osteoporosis.
They are a good source of Vitamin A which helps to protect against such diseases as heart disease, cataracts, and any other disease that is associated with the aging process through its antioxidant properties. The antioxidant helps to keep the immune system strong and functioning properly. Vitamin A is essential to the body's vision, reproduction, and cell development health.
They are a good source of protein which provides your body with an energy source and keeps the muscle strong.
Collard greens are a rich source of dietary fiber which supports a healthy digestive system. The regular consumption of dietary fiber supports a healthy digestive system. It also reduces the risk of cardiovascular diseases and helps to lower the "LDL" bad cholesterol from the body system. It helps to absorption of the nutrients and provides the body's stomach with a full, satisfied feeling. Dietary fiber also helps to prevent the blood sugar from spiking after the person gets done eating.
Collards green are also a rich source of Vitamin C which is a powerful natural antioxidant that offers the body protects against the free radical injury and the symptoms of the flu.
It is a rich source of the Vitamin K which helps the body to protect itself against the dreaded disease called Alzheimer Disease. Vitamin K helps to increase the bone mass by promoting osteotropic activity in the body's bones.
The recipe I want to share with you is called Kicking Collard Greens and I have personally tried this recipe which I considered to be very good.
Heat one tablespoon of olive oil over medium heat and add three slices of bacon, cook until crispy. Remove the bacon from heat, crumble it, and return it to the pan. Add one large onion and cook until tender which would be about five minutes. Add two minced cloves of garlic and cook just until fragrant. Then add one pound of fresh collard green and cut into two inches pieces. Fry until the collard green wilt.
Pour in three cups of chicken broth and season to taste with salt, pepper, and red pepper flakes. Reduce heat to low, cover, and simmer about forty-five minutes or until the collards green is tender.
Related posts: