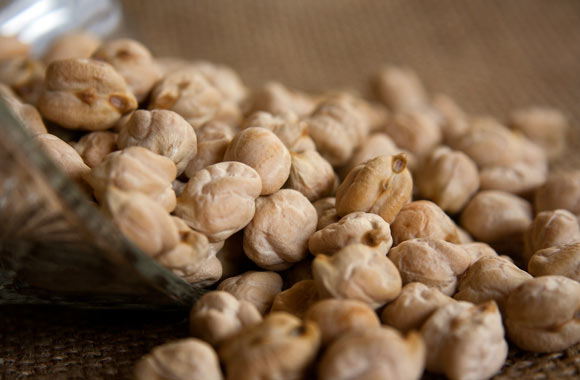 Chickpeas are plants that grow anywhere from eight to twenty inches tall and have small feathery leaves on either side of the stem. This plant is a type of pulse with one seed pot growing on the stem and containing two to three peas. Growing on the chickpea plant is a white flower with blue, pink, or violet veins running through it.
This plant needs the temperate of a tropical weather, but it also needs at least sixteen inches of rain. Chickpeas are the earliest cultivated vegetable known to man at this time. Chickpeas are also known as garbanzo beans and are the staple food of many Middle Eastern and South Asian culture.
There are two types of chickpeas and the first one is the Desi type. It has small, darker seed with a rough coat and is cultivated mostly in Ethiopia and Mexico. The Desi type is also known as the Bengel gram or Kala chana.
Another type of chickpeas is the Kabuli and this type has the lighter, colored, larger, seeds with a smoother coat than the first type and is cultivated in Southern Europe, Northern Africa, Afghanistan, Pakistan, and Chile.
There are several ways to make chickpeas and some of them are as followed: eaten cold in salads, cooked in stews, and grounded into a flour called "gram flour". With this flour, a cook can ground the flour and roll them into balls and fry them up as falafel or stir into batter and baked into balls and fried up as farinata.
They are a great source of the following vitamins and mineral: fiber, protein, folic acid, iron, copper, zinc, and magnesium.
Chickpeas are a very good source of dietary fiber which is important to the body in the removal of cholesterol and regular consumption of the chickpeas have been linked to the lowering of "LDL" or another word the bad cholesterol. Dietary fiber helps to improve the absorption of nutrients and provides the person eating the chickpeas a full feeling. The fiber also helps to keep the person regular. It also helps to control and balance the blood glucose levels. Dietary fiber helps to keep the blood glucose normal and avoid the blood sugar spikes that the person eating the chickpeas would have got.
Iron helps to move the oxygen throughout the body's system and it is required to produce energy for the daily run of the person's life. Also, iron is needed for proper function of the human bodies system as a whole.
The recipe that I want to share with you today is Roasted Chickpea. First, preheat your oven to 425 degrees and with one can of chickpeas, drained and blotted dry with a paper towel. Put the chickpeas into a bowl and mix them with two tablespoons of olive oil. Season them to taste with salt, pepper, garlic salt, and Cheyenne pepper.
Spread them on a baking sheet and bake them for thirty to forty minutes, until they are browned and crunchy. Watch them the last few minutes to avoid burning them.
Related posts: