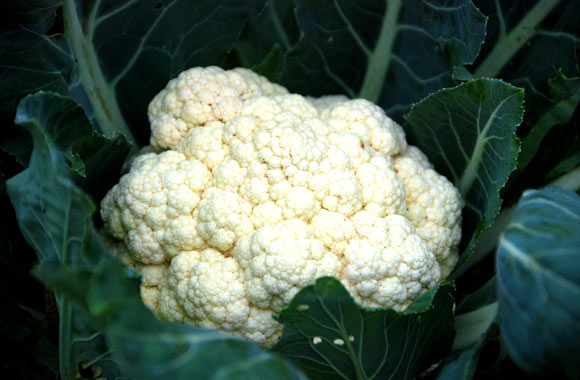 Cauliflower is white in color and the leaves are green. They can be grown inside in container and taking outside to re-plant or grown in a garden in the sun. Some of the people that I know have described cauliflower looking like a cloud that is floating by. I like cauliflower and broccoli mixed together with Cheddar cheese poured over them.
This vegetable has many health benefits in it and they are vitamin C, Vitamin K, folate, choline. Vitamin B6, potassium, fiber, manganese, molybdenum, Vitamin B5, tryptophan, phosphorus, protein, magnesium, VitaminB, iron, and the calories in cauliflower is twenty-six.
Cauliflower is packed with Vitamin C and manganese. They are powerful antioxidants and cauliflower can give you fifty-five mg of Vitamin C. Eating cauliflower in your diet will help to protect you from free radical damage and reduce your risk for diseases caused by oxidative stress such as heart disease and cancer.
This vegetable contains high amounts of Vitamin K and Omega-3 fatty acids. They will help to decrease the risk of inflammation. One cup of boiled cauliflower contains about eleven micrograms of Vitamin K and 0.21 grams of Omega-3 fatty acids. Eating cauliflower on a regular basis can help to prevent this illness: arthritis, obesity, diabetes, Mellitus, inflammatory bowel disease, and ulcerative colitis.
By eating cauliflower on a regular basis, this vegetable will help you to prevent heart diseases and cerebrovascular diseases. Cauliflower is full of antioxidant and anti-inflammatory properties that help to prevent those two illnesses.
One cup of boiled cauliflower delivers 3.35 grams of dietary fiber and this fiber helps to clean out the body's digestive system. Cauliflower helps the digestive system get rid of the unnecessary particles. Another important about the cauliflower is that it has a protective substance called glucoraphanin, which has a protective effect on your body's stomach lining.
Cauliflower has been linked to preventing certain types of cancer and those types of cancer are bladder cancer, breast cancer, colon cancer, prostate cancer, and ovarian cancer. This works because cauliflower provides a special nutrient support for three of the bodies systems and they are the body's detox system, antioxidant system, and the body's inflammatory system.
This vegetable is an excellent source of Vitamin C and manganese. It helps to lower our cancer risk by helping us avoid chronic and unwanted oxidative stress.
One of my favorite recipes for cauliflower is Cauliflower Cheese with Dijon Mustard. Place one head of cauliflower florets in a large glass bowl and cover with the top of the bowl with a clear plastic wrap. Poke a few holes in the top of the plastic wrap and put the bowl in the microwave. Cook in the microwave for five to seven minutes or until tender.
Stir in a smaller bowl, one hundred ml of mayonnaise and four tablespoons of Dijon Mustard. Spread over the top of the cauliflower and sprinkle one hundred grams of Cheddar Cheese over the whole thing. Put back in the microwave and cook for about two minutes until the cheese is melted.
Related posts: