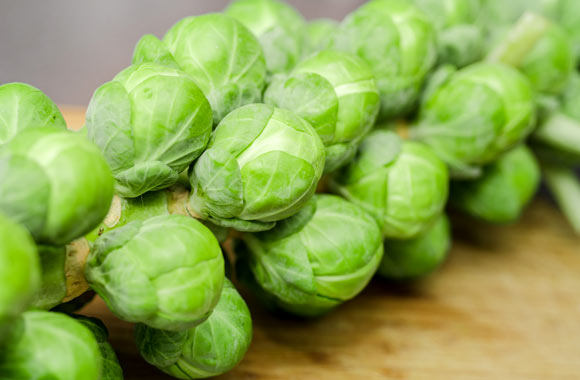 Brussels sprouts are not one of my favorites, but I will eat them. My aunt gave me the enclosed recipe and I hope everyone enjoying trying Brussels Sprout Casserole. She brings them to the family picnic and by the time to get home, her dish is empty.
Researchers assume that Brussels sprouts were first grown in Belgium and now in the present time, Brussels sprouts are seen in most of the gardens in the United States. Brussels sprouts are part of the disease-fighting cabbage family.
There are a lot of vitamins and minerals in Brussels sprouts and they are the following list: Vitamin K, Vitamin C, manganese, folate, fiber, Vitamin A, potassium, Vitamin B6, tryptophan, Vitamin B1, iron, phosphorous, protein, molybdenum, magnesium, Vitamin B2, choline, Vitamin E, Omega 3 fats, calcium, and Vitamin B3. In the following article, I will show you some of the things that these vitamins and mineral do for the body.
When making Brussels sprouts, steam them and enjoy the cholesterol-lowering benefits that they have. The fiber in Brussels sprouts does a better job binding together with the bile acids in your digestive tracks. When this binding process takes place, it is easier for the bile acid to be excreted and the end result is a lowering of cholesterol levels. In a single serving of Brussels sprouts, this is usually one cup, the fiber measures to three to five grams.
Brussels sprouts block the activity of sulphotransferase enzymes that can be detrimental to the health and stability of DNA within the white blood cells.
Brussels sprouts have a rich source of antioxidant in them and those antioxidants are Vitamin C, Vitamin E, and Vitamin A. The mineral manganese is also in Brussels sprouts and there is about three flavonoid antioxidants present also. Those antioxidants are isorhamnetin, quercetin, and kaempferol. They protect against oxidative stress on the body's cells.
Also, present in Brussels sprout is glucosinolates and their detox-activating isothiocyanates are to fight against and prevent bladder cancer, breast cancer, colon cancer, lung cancer, prostate cancer and ovarian cancer.
Vitamin K is present in Brussels sprout and vitamin K promotes healthy bones, prevents calcification of the body's tissues, and is needed for proper brain and nerve function. Vitamin K also serves as an antioxidant and anti-inflammatory agent.
One cup of Brussels sprouts does a lot of things for the body, such as aids in digestion, prevents constipation, maintain low blood sugar, and helps against overeating.
The following is the recipe for Brussels Sprout Casserole and before you tell the kids what it is, let them try it. They will find out how delicious it is and you will secretly know they are eating their vitamins.
Trim one pound of Brussels sprouts by cutting them in half. Combine the Brussels sprouts and one-half pound of baby carrots in medium pan. Cover the mixture with cold water and bring to a boil over high heat.
Reduce the heat and let simmer for eight minutes or until they are tender. Drain the water off.
Melt three tablespoons of butter in a pan over medium heat and stir in two tablespoons of honey mustard, one-half teaspoon of salt, and one-half teaspoon of pepper. Put the vegetable mixture into this pan and toss to coat with the sauce.
Related posts: