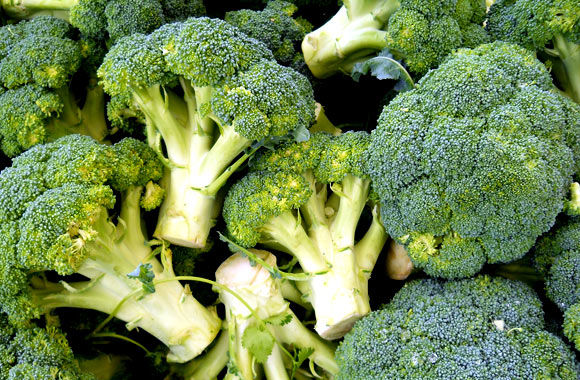 I love broccoli especially with cheese melted over top, but I also it raw with a dip. At the end of this article, I have a recipe that is delicious to eat and the name of it is Cheesy Broccoli Casserole.
First, I want to tell you about the calcium found in broccoli. The calcium that is found in one serving of broccoli doesn't even equal the amount of calcium that is found in one glass of white milk. Broccoli is good for calcium for the people that can't drink white milk to get the daily calcium they need. Calcium helps to build strong bones and teeth. It also plays a role in controlling high blood pressure and is known to prevent colon cancer.
Beta-carotene and Vitamin C are important antioxidants that have been linked to preventing such disease as heart disease, cataracts, and several types of cancer.
Broccoli is a rich source of fiber. Half of the fiber found in broccoli is insoluble fiber and the other half is soluble fiber. When you steam your broccoli, the fiber that is in it has a better chance to bind with the bile acids in your digestive tract and when this happens, it is easier for the bile acid to be excreted. The end result is a lowering of your cholesterol levels.
Broccoli has a positive impact on our body's detoxification system. It contains these three glucosinolate phytonutrients found in a special combination in broccoli and this trio is able to support all the steps in the body's detoxification system including activation, neutralization, and elimination of unwanted contaminants. The trio that packed a hard punch for the body's detoxification system is glucoraphanin, gluconasturtion, and glucobrassicin. Isothiocyanates are another detox-regulating molecule made from broccoli glucosinolates, and they help to control the detoxification process at a generic level.
Here is what is in a single serving of broccoli, which is one cup chopped and the calorie count for one cup is twenty-seven. The important ingredients for the body is one gram of fat, zero grams of saturated fat, 0 mg of cholesterol, six grams of carbohydrate, two grams of protein, two grams of dietary fiber, one mg of iron, twenty two mg sodium, 1207 IC Vitamin A, forty nine mg Vitamin C, one mg of riboflavin, one mg Vitamin B6, eighty four micrograms folic acid, thirty one mg calcium, sixteen mg magnesium, one mg manganese, and 1,567 micrograms of carotenoids.
Now, for something yummy in the tummy and that is Cheesy Broccoli Casserole. First off, lightly grease your slow cooker. Combine two packages of chopped broccoli, one can of condensed cream of potato soup, one cup of Cheddar cheese, one-fourth cup of minced onion, one teaspoon hot pepper sauce and mix well.
Cover and cook for five to six hours on low or on high for two to three hours. Sprinkle one cup of crushed potato chips and saltine crackers with the remaining one fourth Cheddar Cheese over the broccoli mixture. Let cook uncovered on low for another thirty to sixty minutes, when the cheese is melted.
For a crispy topping, transfer the casserole to a baking dish and sprinkle the remaining cheese and crackers mixture on it. Bake it for ten to fifteen minutes in a preheated oven of 400 degrees.
Related posts: