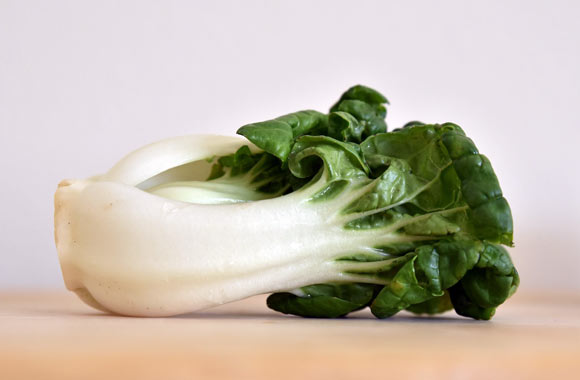 Bok Choy is known by many different names such as Chinese White Cabbage, pe-tsai, pak choi, petsya, and white celery mustard. The scientific name for Bok Choy is Brassica campestris L.
Bok Choy is a small plant which grows straight up from the ground with smooth white romaine lettuce like stalks which spread in the end to fine, glossy green oval or round leaves. This plant is considered adult when it measures about twelve to eighteen inches in length. This vegetable is popular in China, Philippines, Vietnam, and other oriental regions. Some people say that bok choy has a mild flavor with a sweetness taste afterward.
Bok Choy is a low-calorie food and is popular in stews, soups, stir-fries, and wonton soup. It also promotes weight loss and is low in carbohydrates.
This vegetable is a rich source of many vital phytonutrients, vitamins, minerals, and antioxidants as shown below. One hundred grams of bok choy provides just thirteen calories.
This vegetable is high in antioxidant and helps to prevent many types of cancer. Lung cancer, colon cancer, prostate cancer, and endometrial cancer seems to be prevented by eating this food. One reason that cancer may be prevented is that Bok Choy has glucosinolates, which are converted into isothiocyanates in our bodies. These compounds have been shown to be an active fighter in fighting cancer. Glucosinolates also are good for the immune system as well as fighting against cancer.
This vegetable has helped the heart fight against some illness that will come against the heart.
Other things that bok choy are known to have in it is Vitamin C, folic acid, potassium, Vitamin A, beta-carotene, calcium, dietary fiber, iron, Vitamin K, and Vitamin B6. Bête-carotene is high in bok choy and beta-carotene is known to fight against the risk of cataracts. Some studies have shown that bok choy supports a role of carotenoids in reducing macular degeneration.
Vitamin K has an important role in the bone metabolism by promoting osteotropic activity in our bodies bone cells. Enough of Vitamin K makes our bodies' bones healthier, stronger and delays osteoporosis.
Bok Choy is known to aid in the digestion system and help it to function properly. Regular consumption of this vegetable helps the body develop resistance against infectious agents and scavenge harmful, pro-inflammatory free radicals.
Found this recipe and I thought another people would like to try it. Take one medium head of bok choy and mix it with four sliced green onions and then chill in the refrigerator.
Break up one package of uncooked ramen noodles and combine with a one-half cup of slivered almonds and two tablespoons of toasted almonds.
Before serving, combine the bok choy mixture and the ramen noodles mixture. Toss the salad and serve with a dressing coating it. The dressing is one-fourth cup of virgin olive oil, two tablespoons of lemon juice, and one tablespoon of tamari.
I read some of the reviews for this bok choy salad and everyone agreed that it was delicious.
Related posts: