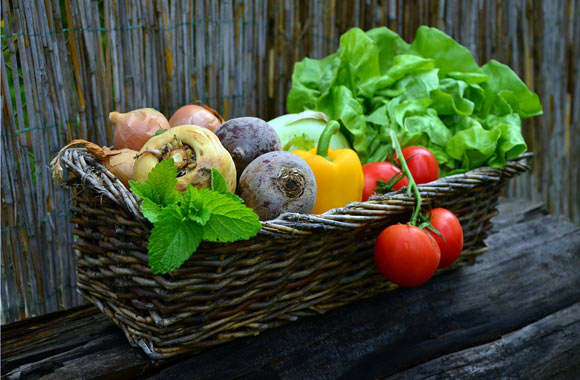 Vegetables are the basic food of our diet and are necessary to be used and included in our daily diet. They are the richest treasure of all the nutrients, minerals, vitamins and fibers. They possess countless benefits… continue to read vegetable benefits.
Great Source of Antioxidants
Various vegetables provide antioxidant activity in our body. This activity is necessary to combat and to eliminate toxins and free radicals. These if not removed result in massive damage to the body cells and tissues even lead to cancerous changes.
Source of Vitamin and Minerals
Vegetables contain a great number of minerals as well as vitamins in them. The green color vegetables are particularly enriched with beta-carotene, calcium, potassium, magnesium, and iron. Other vegetables also possess different minerals and all the vitamins such as A, B, C, D, E, and K.
Good For Weight Loss
Vegetables are low in fat therefore considered good for those who want to lose weight. They are even helpful in maintaining weight too. These low caloric vegetables include bottle gourd, bitter melon, endive, cabbage, summer squash, bok choy, eggplant, spinach or swiss etc. The body digests vegetables earlier and this may lead to increase in basal metabolic rate. Increase in basal metabolic rate leads to weight loss easily. These green vegetables are also good for our circulatory system.
Good For Digestive System
Vegetables have both the soluble and insoluble dietary fibers. These dietary fibers are very valuable for our digestive system. Even various vegetables possess non-starch polysaccharides such as gums, cellulose, pectin or mucilage, etc. All these prove to be good remedies in case persons suffer from constipation or has piles problem. These dietary fibers provide bulk and enable easy evacuation of fecal matter from the body.
Boost Immunity Of Body
Vegetables provide all kind of energetic nutrients and therefore keep our body strong. Similarly, the immune system is also boosted with a good intake of food. Enhanced immunity results in strong protection to our body from the harmful microorganisms.
Prevent Diseases
Since vegetables are low in fats as well as possess antioxidant activities, their daily use keeps people fresh and free of diseases. Low fats vegetables prevent cholesterol accumulation and subsequent atherosclerosis and heart diseases. They possess carotenoids that are quite helpful in preventing cancer since carotenoids help in repairing of damaged DNA. Many vegetables are good for our eye because they possess essential nutrients especially vitamin A, therefore they sharpen our vision. Tomatoes, for instance, comprise lycopene that protects our eyes from vision problems.
Vegetable Serving
It is found out that eating fresh vegetables are far better and beneficial than taking supplements to meet the need of nutrients that vegetables possess. So you can use at least 2 to 5 fresh vegetable servings daily. Green colored vegetables are rich in important minerals as well as antioxidants while orange or yellow vegetables are a good source of carotenes and vitamins and xanthins.
So add vegetables to your diet. Use of fresh vegetables is more important than using rotted ones. Vegetables are easily available and affordable so there is no reason to avoid them in your diet. Always use them after washing properly and don't overcook them if you want to get all the essential nutrients they possess.
Related posts: