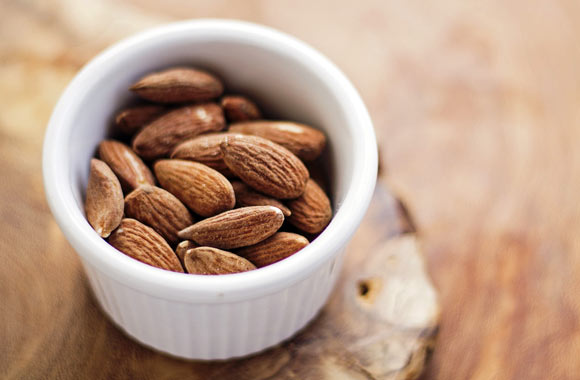 There are, so many ways that almonds help the body along that this author was very surprised at the ways almonds actually help the body.
People with heart disease should eat a couple a day because almond lowers the risk of heart attacks. Almonds lower the bad cholesterol in the body by large amounts. A cup of almonds contains 99 mg of magnesium which helps to improve the blood flow and oxygen going throughout the body. When eating just one cup of almonds a day, the body is getting thirty percent of what it needs in magnesium.
Potassium is an electrolyte that helps the body in several ways, such as helping with the function of nerves and aid in the contraction of the heart muscle. Potassium is vital in relieving and preventing leg cramps.
Several other ways to get health benefits from almonds is for constipation, respiratory disorders, coughing, heart disorder, anemia, impotency, and diabetics. This nut is full of Vitamin E, calcium, phosphorous, iron, magnesium, zinc, selenium, copper, and niacin. Almonds help with skin, hair, and dental care. Almond milk is added to some soap to improve the complexion of the skin. Almonds are full of fiber which help fight against constipation.
Here are several ways that almonds help the body function properly by helping these parts get vital minerals that they need to function properly. Almonds help the heart by supply the body with potassium, vitamin E, and magnesium. Vitamin E is an antioxidant and reduces the chances of getting heart disease. Magnesium prevents heart attacks and almonds also help reduce C-reactive protein, this protein is artery-damaging inflammation.
Almonds are a good way to lose weight by boost our energy level by the presence of manganese, copper, and riboflavin. When our energy level is on a high, the person is more apt to move around to use up that energy instead of sitting on the couch as a couch potato. A study by International Journal of Obesity and Related Metabolic Disorders shows us that a person on a low-calorie almond diet helps a person lose more weight than a person on a low-calorie diet high in complex carbohydrates. When a person is trying to lose weight, they should remember that almonds have non-saturated fat which is good for satisfying our eating.
Almonds also help with the functioning of the brain and in some cases; mother actually feeds children three a day to improve their intellectuals. These almonds were soaked in water and easier for the children to chew.
Some of the smaller ways that almonds help a person is by regulating the cholesterol in the body. Almonds also help with lower the blood pressure and preventing cancer. They also help to prevent cancer and diabetes, which are two major diseases in the United States.
Almonds are good for a pregnant woman because almond have folic acid in them. Folic acid helps to reduce birth defects in newborn babies.
Getting a massage with almond oil helps the body in two ways. One is that it helps the body absorb vitamin E faster and helps our body relax more. The almond oil has a calm effect on some people.
Related posts: